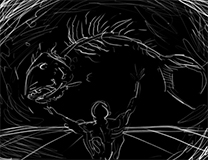 "The cook didn't like that the eyes of the dead fish shifted to stare at him as he cut their heads off.  The cook's assistant, who was also his lover, didn't like that he woke to find just a sack of bloody bones on the bed beside him.  "It's starting again," he gasped, just moments before a huge, black, birdlike creature carried him off, screaming.  The child playing on the grounds outside the mansion did not at first know what she was seeing, but realized it was awful.  "It's just like last year," she said to her imaginary friend, but her imaginary friend was dead.  She ran for the front door, but the ghost of her imaginary friend, now large and ravenous and wormlike, swallowed her up before she had taken ten steps across the writhing grass."
So begins NO BREATHER IN THE WORLD BUT THEE, a horrifically wonderful tale by Jeff VanderMeer in which something awful and ominous from last year is happening again.  The story moves deftly from one point of view to another, living for a paragraph or two in the mind of the butler, the lady of the house, the doctor.  Each reacts in his or her own way as their world crashes down around them; in each and every passing moment, VanderMeer's stunning detail and quick pacing are to be admired.
Narrator Stefan Rudnicki is terrific as usual, as he wields the basso profundo of his voice to make the story that much more terrifying. Hear it for yourself below, then check out Nightmare's Author Spotlight on VanderMeer to learn how Shakespeare inspired the title and why he believes being a writer means "paying it forward."
NO BREATHER IN THE WORLD BUT THEE AUDIO
Jeff VanderMeer recently signed a three-book, six-figure deal with Farrar, Straus & Giroux; Paramount Pictures and Scott Rudin recently bought the movie rights for all three novels.  His novels have made the year's best lists of the Wall Street Journal, the Washington Post, and the San Francisco Chronicle, and he is the recipient of both an NEA-funded Florida Individual Writers' Fellowship and Travel Grant.  VanderMeer is a three-time winner of the World Fantasy Award, twelve-time finalist, and has been a finalist for the Nebula, Hugo, Philip K. Dick, and Shirley Jackson Awards, among others.  He also regularly reviews books for the New York Times Book Review, the Guardian, Los Angeles Times Book Review, and the Washington Post.  He serves as the co-director of Shared Worlds, a unique teen SF/F writing camp located at Wofford College in South Carolina.
Stefan Rudnicki is a Grammy and Audie Award winner who has narrated and/or produced over 3,500 audiobooks.  He has a dozen published books to his name, and has been seen in more than 80 stage productions on both coasts and abroad.  He is the co-founder of Skyboat Media and Podcast Producer for Lightspeed.