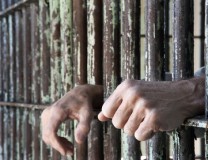 In HER HUSBAND'S HANDS by Adam-Troy Castro, a man comes home from war.  Or, not the whole man. His hands.  But these aren't mere body parts or relics, something for a family to bury.  Castro's haunting story is set in the near-future, when a strip of skin can return from battle and proofread articles for a living, existing on life support and memory back-ups and the hope of winning the cloning lottery.  It's no wonder this story was a Nebula finalist in 2011.  Haunting, indeed.
Kathe Mazur narrates beautifully, capturing the sadness—the strangeness—of the situation, especially for Rebecca, the wife to whom those hands return.  The story is told from her point of view, and Mazur leads us through her complicated emotions, those complex first few days of a marital reunion made even more complex because, albeit in different ways, there are only parts left of each of them.  Listen below, then read Lightspeed's Author Spotlight to hear Castro get a little deeper into the characters of Bob and Rebecca.
Adam-Troy Castro is best known in science fiction circles for his Philip K. Dick Award winning novel, Emissaries From the Dead, which stars his profoundly damaged far-future murder investigator Andrea Cort.  His short fiction has been nominated for eight Nebulas, three Stoker Awards, and two Hugos.  The first volume of a middle-grade fantasy series,Gustav Gloom and the People Taker, was published in August 2012; the second and third volumes, Gustav Gloom and the Nightmare Vault, and Gustav Gloom and the Four Terrors, will both appear in 2013.  Adam lives in Florida with his wife Judi and a rotating collection of insane cats that includes Uma Furman, Meow Farrow, and Harley Quinn.
Kathe Mazur is a stage, television, and film actress and award-winning narrator who has narrated over 100 audiobooks.  Her recording of QUIET was named a 2012 Best Audiobook by AudioFile Magazine and Best Non-Fiction Audiobook by Audible.com.  Kathe's steamy performance in Don't Cry For Me by Sharon Sala garnered her a Finalist place in the Romance Category this year at the AUDIE AWARDS. She claims that when she was a child, she used to read books aloud to imaginary children, at the time unaware that there would be a future in it.