"They're dead, not deaf." –Johannes Cabal
Hello fellow Johannes Cabal fans! (Not a fan yet? Keep reading and you will be.) So you may remember how we recorded Book 4 (THE BROTHERS CABAL) first and then Book 3 (THE FEAR INSTITUTE) as written in our previous blog post.
Well, guess what? This time we went back even farther – to the very first short story Cabal appeared in. And then threw in some other tales. And topped it off with an introduction written and recorded by none other than Jonathan L. Howard himself. The result? A delightful mix, if we say so ourselves.
JOHANNES CABAL AND THE BLUSTERY DAY: AND OTHER TALES OF THE NECROMANCER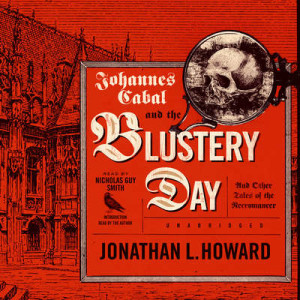 Introduction – read by Jonathan L. Howard
Exeunt Demon King
The Ereshkigal Working
Johannes Cabal and the Blustery Day
The House of Gears
The Death of Me
Ouroboros Ouzo
A Long Spoon
Everyone has to start somewhere, including Johannes Cabal.
Narrator Nicholas Guy Smith returns as everyone's favorite ill-tempered necromancer.
Listen as he faces some unique questions, such as:
"Are you exothermic or endothermic?" (A Long Spoon)
As he doles out the occasional putdown:
"They're all twinkle dust and no trousers." (The Death of Me)
As he deals with life's challenges:
"The Bonewind is Coming." (Johannes Cabal and the Blustery Day)
As he imparts much-needed advice:
"It's just that your current course of action can only help the walking dead I see out there, by inevitably bolstering their numbers." (The Ereshkigal Working)
And heeds much-needed advice:
"Be on your guard against the ones where you end up dead and buried, dead and wandering around, or a solicitor." (Ouroboros Ouzo)
This is the first time all of these stories have been gathered in one place. That's right, folks. This unique collection is only available on audio (pretty fitting for the one-of-a-kind necromancer, eh?)
Head over to downpour.com to get this collection today.
And for those of you who in dire need of more of Howard's magical work: click here for more CABAL on audio or click here for info on his "prose comic" series GOON SQUAD.