Mr. Kott was one of a handful of theater critics who have changed the perception of masterpieces. His main strong point as a critic lay in his skill at showing "the way in which the history is part of the drama and the drama is part of the history," as he put it in a 1985 interview.  –Eric Pace, in his New York Times obituary of Jan Kott 
Born in Warsaw, Jan Kott (1914-2001) received a law degree from the University of Warsaw in 1936 and fought in the Polish Army during World War II. He was a professor of literature at the University of Warsaw and completed research at Oxford University in the UK and Yale University in the U.S. Kott was granted asylum in the United States in 1969 and continued teaching at the State University of New York at Stony Brook from 1969 to 1983. In addition to being a professor, he was an author, poet, translator, and theater critic. As an author, he is best known for his book Shakespeare Our Contemporary, published in English in 1964. His insights influenced Peter Brook's 1964 production of Shakespeare's "King Lear," starring Paul Scofield. Kott also helped shape the work of directors like Giorgio Strehler and Ariane Mnouchkine.
And his influence continues to be felt today. In 2012, The Guardian's theatre critic Michael Billington compiled an A to Z of modern drama. And K is for none other than Mr. Jan Kott. Billington states: "I can't think of anyone today who influences production in quite the same way as Kott."
To hear Jan Kott's own thoughts on the question "Is Shakespeare Still Our Contemporary?" check out this youtube video. In 2015, in celebration of the 100th anniversary of Kott's birth, there was an international one-day conference entitled "Jan Kott Our Contemporary: Contexts, Legacies, New Perspectives" at Rose Theatre, Kingston-upon-Thames to discuss the role of the Polish critic Jan Kott in Shakespeare and Theatre Studies, as well as his contribution to the intellectual life of the twentieth century.
Skyboat's Stefan Rudnicki, an accomplished actor and director in his own right, has long been a fan of Kott's work and jumped at the opportunity to put his classic and hugely influential works on audio. First up, SHAKESPEARE OUR CONTEMPORARY.
"The best, the most alive, radical book about Shakespeare in at least a generation." –Mary McCarthy, National Book Award–winning author and critic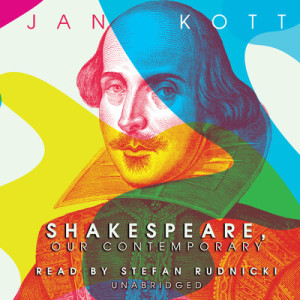 SHAKESPEARE, OUR CONTEMPORARY by Jan Kott
Read by Stefan Rudnicki
Shakespeare, Our Contemporary is a provocative, original study of the major plays of Shakespeare. More than that, it is one of the few critical works to have strongly influenced theatrical productions.
Peter Brook and Charles Marowitz are among the many directors who have acknowledged their debt to Jan Kott, finding in his analogies between Shakespearean situations and those in modern life and drama the seeds of vital new stage conceptions. Shakespeare, Our Contemporary has been translated into nineteen languages since it appeared in 1961, and readers all over the world have similarly found their responses to Shakespeare broadened and enriched.
Followed by THE EATING OF THE GODS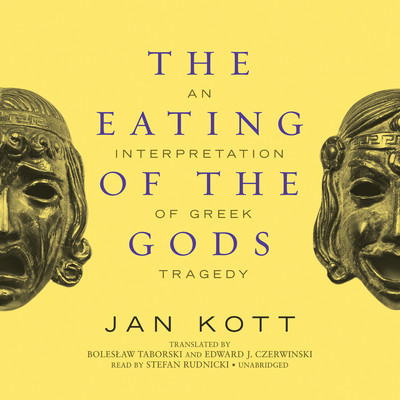 THE EATING OF THE GODS: An Interpretation of Greek Tragedy by Jan Kott; Translated by Bolesław Taborski and Edward J. Czerwinski
Read by Stefan Rudnicki
The distinguished Polish critic Jan Kott reexamines Greek tragedy from the modern perspective. As in his earlier acclaimed Shakespeare, Our Contemporary, Kott provides startling insights and intuitive leaps which link our world to that of the ancient Greeks. The title refers to the Bacchae of Euripides, that tragedy of lust, revenge, murder, and "the joy of eating raw flesh" which Kott finds paradigmatic in its violence and bloodshed. Whether reflecting on Prometheus or drawing a modern parallel in Beckett's Happy Days ("the final version of the Prometheus myth"), Kott's vision is brilliant, his method innovative, and his sensibility consistently new. Since this book first appeared, Kott's connections between ancient and modern have become even more compelling in their immediacy.
Perfect for the Shakespeare enthusiast, the budding artist, the passionate theater fan and everyone in between – purchase your copies on downpour.com today!