Today, we're shining the spotlight on THE FIRST FORMIC WAR SERIES, the trilogy of exciting novels written by Orson Scott Card and Aaron Johnston. We're talking Pre-Ender here. We're talking Way Back Machine. We're talking Baby Mazer.
So, the backwards countdown begins with:
EARTH AWAKENS
(The First Formic War, Book 3) by Orson Scott Card & Aaron Johnston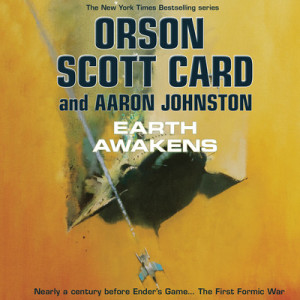 Nearly 100 years before the events of Orson Scott Card's bestselling novel Ender's Game, humans were just beginning to step off Earth and out into the Solar System. No one is expecting First Contact but when an alien ship screamed through the solar system, it disrupted communications between the far-flung human mining ships and Earth. So Earth and Luna were unaware that they had been invaded until the ship pulled into Earth's orbit, and began landing terra-forming crews in China. There are a few men and women who see that if Earth doesn't wake up and pull together, the planet could be lost.
And your favorite narrators, the ones AudioFile Magazine praised in EARTH AFIRE for bringing "a large and diverse cast of characters to life with a sharply realized array of distinct voices and accents," are back.
SkyCast:
Mazer – Stefan Rudnicki
Lem – Arthur Morey
Victor – Stephen Hoye
Bingwen – Vikas Adam
Rena – Roxanne Hernandez
Imala – Emily Rankin
Wit – Stefan Rudnicki
Need to get caught up with the series?
Start here:
EARTH UNAWARE (The First Formic War, Book 1)
Read by Arthur Morey, Emily Rankin, Gabrielle de Cuir, Stefan Rudnicki, Stephen Hoye and Vikas Adam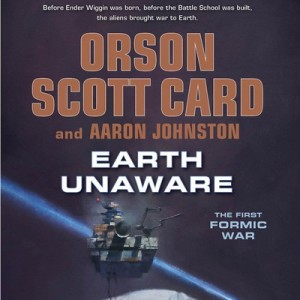 A hundred years before Orson Scott Card's Ender's Game, humans thought they were alone in the galaxy. Humanity was slowly making their way out from Earth to the planets and asteroids of the Solar System, exploring and mining and founding colonies.This is humanity's first contact with an alien race. The First Formic War is about to begin.
"Card's gift for strong, memorable characters combined with screenwriter Johnston's … flair for vivid scene-building results in a standout tale of sf adventure" –Library Journal
Continued in:
EARTH AFIRE (The First Formic War, Book 2)
Read by Arthur Morey, Emily Rankin, Gabrielle de Cuir, Roxanne Hernandez, Stefan Rudnicki, Stephen Hoye and Vikas Adam.
"The gifted Stefan Rudnicki leads a team of talented narrators who do an excellent job of keeping vivid and focused the two-dozen or so characters and multiple locations (a mining ship in the outer Kuiper asteroid belt, the moon, and South China). Orson Scott Card remains a master storyteller, and each narrator is right there with him as he mixes hard science and psychological insights—right up to the cliff-hanger ending." –AudioFile Magazine's review of EARTH AFIRE, an AudioFile Earphones Award Winner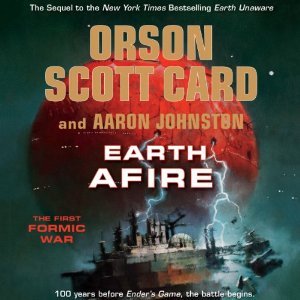 Victor Delgado beat the alien ship to Earth, but just barely. Not soon enough to convince skeptical governments that there was a threat. They didn't believe that until space stations and ships and colonies went up in sudden flame. And when that happened, only Mazer Rackham and the Mobile Operations Police could move fast enough to meet the threat.
"With a stellar cast of narrators, this prequel to Card's sci-fi classic Ender's Game is a rollicking, rollercoaster ride of an adventure…The audiobook ends on a major cliffhanger, leaving listeners chomping at the bit for the next installment." –Publishers Weekly
And it's FINALLY here! Don't wait a minute longer – pick up your copy today!
Frequently we get asked: in what order should I listen to the audiobooks? Click here for a history of the audiobooks and a chronological storyline listening guide to the Ender Universe audiobooks.