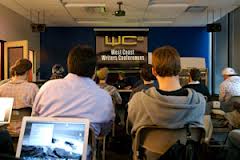 DA+SP—as it is cleverly known—is a "full weekend focused on the new paradigms for authors in an increasingly digital world where the publishing giants are Amazon, Apple, Book Baby, Smashwords, and other digital resources, rather than the "Big Five" Publishers.  The conference will feature "industry experts, educators, agents, and publishers who will demystify the new technologies and explain how to make them work for you.  Attendees experience a full spectrum of workshops, educational panels, lectures, and technical sessions conducted by industry experts" on topics such as "E-books, A-books (Audio), and P-Books (Self-Published Books)."  Truth be told: we didn't even know audiobooks were called A-books, so yeah, we're learning already.
Skyboat Media is known for loving its authors, so needless to say, we're thrilled to be involved in this fantastic conference that serves them.  Gabrielle and Stefan will be moderating a panel—New Revenue Streams for Authors from Audio Books, 11:15AM, Sunday—so grab a cup of coffee and come on by for some mid-morning pearls of wisdom.  We've really got a great group.  See for yourself below:
 Gabrielle de Cuir has narrated over one hundred titles, specializing in fantasy, humor, and titles requiring extensive foreign language and accent skills.  Her "velvet touch" as an actors' director has earned her a special place in the audiobook world. She's directed Anne Hathaway, Emilio Estevez, Wil Wheaton, Dr. Daniel Amen, Elijah Wood, Deepak Chopra, Nancy Cartwright, Fannie Flagg, Joe Mantegna, and many more in the booth. A Social Media wizardress, she blogs weekly at skyboatmedia.com.
Stefan Rudnicki has produced and/or directed nearly 3,000 audiobooks for Skyboat Media and major publishers such as Audible, Inc., Blackstone Audio, Dove Audio, MacMillan Audio, Random House Audio Publishing Group and Zondervan. He has narrated hundreds of audiobooks, including the non-fiction titles Hubris, Legacy of Ashes and Deep Survival, as well as multiple fiction titles by Orson Scott Card, Charles McCarry, and Ben Bova. Stefan won a 2013 Grammy for Best Spoken Word for his work with Janis Ian on Society's Child, and he's won several Audie Awards. In 2012, he was acknowledged as a Golden Voice by AudioFile Magazine. He is also an audiobook agent for a boutique group of authors, as well as co-producer of Lightspeed Magazine, which included monthly podcasts for which he received a Hugo Nomination this year.
Mary Jane Wells is a British actress, writer and voiceover artist. She trained at the Royal Scottish Academy of Music and Drama, then did theatre for 12 years in the UK and Europe. She first came to the US with the French classic, The Red Balloon, at the Mark Taper some years ago, then later returned with a solo show, Martha for the Annenberg Centre, touring to the Kennedy centre, the New Victory on Broadway, and the International showcase in Philidelphia, where she won the Victor Award. Before she left the UK, she worked as a series recurring on BBC's 'Half Moon Investigates' and narrated BBC3's TV show, My Childhood, which won a Scottish BAFTA. Since relocating to LA, she has been shooting, writing and voiceovering in London and Los Angeles. She is the voice of the TV commercial campaigns for Puma Mobium, Jet 2, Sunny Finance, LinkedIn and Eharmony, and the audiobooks which have been sourced as the inspiration for Downton Abbey. Her website is maryjanewells.org.
Dean Sluyter (pronounced like a tiny hamburger) is an audiobook narrator-producer based in Santa Monica. He is the author of Why the Chicken Crossed the Road & Other Hidden Enlightenment Teachings, The Zen Commandments, and Cinema Nirvana: Enlightenment Lessons from the Movies, to be released in audio in late 2013. A former prep school English teacher, Dean is also a kirtan singer and free-lance book editor, and leads workshops on meditation and self-inquiry throughout the U.S. He is currently at work on a meditation primer and a memoir of his experiences as a Buddhist chaplain in a maximum-security prison. His website is deansluyter.com.
Roxanne Hernandez is an Audie nominated narrator and actress who records in English, Spanish and Portuguese. She was born in Santiago, Chile, and grew up in the United States and Rio de Janeiro, Brazil. She has recorded dozens of books in diverse genres:  Young Adult, Children's, Romance, Science Fiction, Mystery/Suspense and Non-Fiction. Most recently, Roxanne was part of the ensemble cast for Ender's Game Alive, an original Audio Drama by Orson Scott Card, due out in late October, 2013. In addition to her narration work, Roxanne's voice has been heard on dozens of commercial radio and television campaigns.  Among these are Seaworld, Bealls of Florida, Best Western Hotels, Rent-A-Center, Arco, Albertson's Supermarkets and BellSouth. She is a mother of twins and a lover of Flamenco music and Cuban food.
Christian Rummel has narrated over a hundred and seventy-five audio books in a variety of genres, including the popular LOST FLEET and BEYOND THE FRONTIER series by Jack Campbell. He is a two-time Audiofile Earphones award winner, for his work on Joseph Wambaugh's HOLLYWOOD CROWS and Nelson DeMille's THE GOLD COAST. He has appeared Off-Broadway with Theatre For A New Audience, Clubbed Thumb and Peccadillo Theatre. Television credits include LAW & ORDER and ONE LIFE TO LIVE. The three things he cannot live without are his girlfriend, his cat and his motorcycle.