"Matthew Hughes follows nimbly in Jack Vance's footprints, then breaks some fresh trail. First-class space opera." —Robert J. Sawyer
Matthew Hughes is a fantasy and suspense fiction writer. He has been awarded the Endeavour Award and the Crime Writers of Canada's Arthur Ellis Award, and has been shortlisted for the Aurora, Nebula, Philip K. Dick, Endeavour, A. E. van Vogt, Neffy, and Derringer Awards. In 2020, he was inducted into the Canadian Science Fiction and Fantasy Hall of Fame alongside Heather Dale and Cory Doctorow (whom you may recognize from such previous Skyboat audiobook productions as HOMELAND and WALKAWAY).
Best known as a science fiction and fantasy writer, Jack Vance (1916–2013) published his first story, "The World Thinker," in 1945 and went on to write over sixty books. Vance has won several awards in those genres, including the World Fantasy Award for Lifetime Achievement and a number of Hugo Awards. In 1997, he was named a SFWA Grand Master.
In homage to Vance's expansive universe, Matthew Hughes wrote an entirely new work: BARBARIANS OF THE BEYOND, the authorized sequel to Jack Vance's The Demon Princes. Instead of a story of the "further adventures of Kirth Gersen," Hughes uses the setting of the world Providence and focuses on an entirely new protagonist: Morwen Sabine, "a young woman whose parents were enslaved by the Demon Princes and ended up deep in the Beyond, in the household of a notorious pirate. She escapes and comes to Providence on a mission to recover a precious object with which she hopes to buy her parents' freedom. But then, as they do, things get complicated," as Hughes explains in a blog post on his website.
"I really enjoyed Barbarians of the Beyond. Matthew Hughes does Jack Vance better than anyone except Jack himself." —George R. R. Martin
And George R. R. Martin was not alone in his praise. Spatterlight Press, formed by family and friends to preserve and promote the work of Jack Vance, proudly published BARBARIANS OF THE BEYOND under their imprint. And, now, together with Spatterlight Press, Skyboat and Blackstone are pleased to bring Matthew Hughes' project to the audiobook universe! (In fact, we are such fans of Jack Vance that one audiobook simply wasn't enough. Since this is a continuation of the Demon Princes series, we decided it's only fitting to bring the Demon Princes series to audiobook as well. Hop over to our Demon Princes blog post for more info!)
"Lock the door, turn off the phone, get into a comfy chair, and deep-dive into a marvelous continuation of Jack Vance's Demon Princes series. Matthew Hughes is a treasure and Barbarians of the Beyond
is a terrific adventure."
—David Gerrold
And don't forget those headphones! Skyboat's Gabrielle de Cuir takes the helm of this otherworldly adventure.
An Audie Award–winning narrator, Gabrielle has narrated over three hundred titles and specializes in fantasy, humor, and titles requiring extensive foreign language and accent skills. A fan of science fiction featuring strong female protagonists, Gabrielle narrated SASSINAK and THE DEATH OF SLEEP in Anne McCaffrey's Planet Pirates series and EXPIRATION DAY by William Campbell Powell, which earned her an AudioFile Earphones Award. She was delighted to step into the booth and immerse herself in Hughes' vivid continuation of the Jack Vance Space.
Listen to an audiobook sample on Skyboat's SoundCloud!
The only survivors were a few colonists who had been out of town during the raid. Two of these were Rolf Gersen and his grandson, Kirth. They left Providence soon after for Earth and other worlds of the Oikumene, never to return. Mount Pleasant became a ghost town, standing empty for years, until a sect of religious enthusiasts whose neighbors had found them troublesome left their home world of Tantamount in the Oikumene and came to occupy the abandoned steadings and business premises.
No one knew what became of their stolen predecessors, until one day…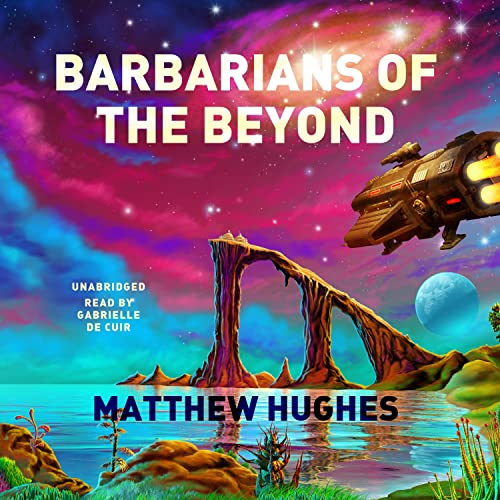 BARBARIANS OF THE BEYOND by Matthew Hughes
Read by Gabrielle de Cuir
Twenty years ago, five master criminals known as the Demon Princes raided Mount Pleasant to enslave thousands of inhabitants in the lawless Beyond. Now Morwen Sabine, a daughter of captives, has escaped her cruel master and returns to Mount Pleasant to recover the hidden treasure she hopes will buy her parents' freedom.
But Mount Pleasant has changed. Morwen must cope with mystic cultists, murderous drug-smugglers, undercover "weasels" of the Interplanetary Police Coordinating Company, and the henchmen of the vicious pirate lord who owns her parents and wants Morwen returned. So he can kill her slowly….
Barbarians of the Beyond is a return to "Jack Vance Space" and space-opera derring-do that follows in the science fiction Grandmaster's footsteps.