Release Date: January 10, 2017
Anthony Cohen
,
Armin Shimerman
,
Cali Ross
,
Christina Moses
,
Crystal Ann Taylor
,
David Polcyn
,
Gunner Weber Prada
,
Ian Federgreen
,
Joe Ochman
,
Marta Schulz
,
Nathaniel Freeman
,
Neil Kaplan
,
R. Martin Klein
,
Richard Tanner
,
Richard Tatum
,
Robert Amico
,
Sara Jo Elice
Directed by Marc Scott Zicree and Elaine Zicree /Published by Skyboat Media
Skyboat Media, in conjunction with Space Command Studios, is proud to present MAGIC TIME:  THE AUDIO PLAY, performed by a full cast.
For rising young lawyer Cal Griffin, it's just another day in the Big City, full of stress, screw-ups, deadlines, and anxiety. That is, until New York is rocked by a series of bizarre tremors — and the lights go off…for good. Trapped in a giant metropolis and cut off from the rest of the world, Cal tries desperately to make sense of the surreal chaos that engulfs his crippled city. Worst of all, the people around him are…changing. Once ordinary humans are becoming embodiments of their darkest desires, manifestations of their deepest fears. Packs of pale, crouched figures stalk the subways, glowing child-faces peer out of the shadows…and monsters prowl Times Square.
And Cal Griffin is not the only one who will be forced into a strange new role in this brave new world of nightmare and wonder. An elevator mechanic turned huntress, a refugee doctor from Chernobyl, a visionary street wizard, all share a staggering responsibility with the young attorney to make sense of the senseless — and to follow an awesome destiny. For they are to be soldiers in a titanic battle between darkness and light. And its raging hellfires will effect the most astonishing transformation of all — turning a young man of pure heart into that rarest of creatures: a hero. (Synopsis courtesy of author Marc Zicree)
Purchase your copy of MAGIC TIME:  THE AUDIO PLAY today.
"Who played that part?"  We're glad you asked. Check out the Skyblog with the cast and crew list here.
 About the authors: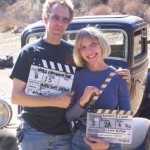 Writer-producer-directors Marc Scott Zicree and Elaine Zicree have written and sold over 100 teleplays, screenplays and pilots to every major studio and network.  Their work has been nominated for various awards including the Hugo and the Nebula.  They also spend their time mentoring new writing, acting, and producing talent. In 2014, Marc was named a Writers Guild Diversity Honoree. His bestselling book THE TWILIGHT ZONE COMPANION has been credited with creating the "books on TV series" genre.