Robert Silverbe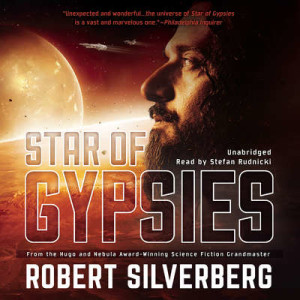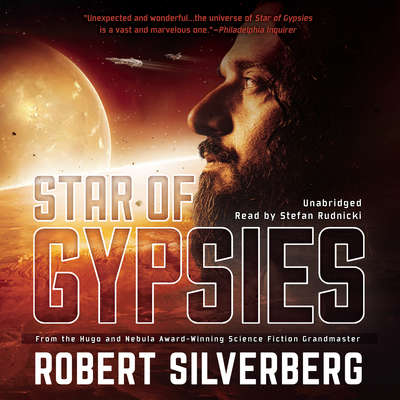 rg has been a professional writer since 1955, and he's widely known for his science fiction and fantasy stories. He is a many-time winner of the Hugo and Nebula awards, was named to the Science Fiction Hall of Fame in 1999, and in 2004 was designated as a Grand Master by the Science Fiction Writers of America (which he lovingly discusses here).
STAR OF GYPSIES centers on Yakoub, the legendary king of the Rom, the Gypsy race that has evolved from the days of caravans into lords of the spaceways. Weary and proud, Yakoub has relinquished his power and lives in exile on a distant, icy world. In his absence, chaos fills the vacuum of power. Yakoub must journey across the cosmos and fight to regain his throne. Only then can he fulfill his dream: to return his people to their ancestral home of Romany Star. The Rom need the Yakoub of legend once more. Can the once-mighty king overcome time and tyranny and inspire his people in their darkest hour? –downpour.com
"Unexpected and wonderful…The universe of Star of Gypsies is a vast and marvelous one: Yakoub is one of the most finely drawn and sheerly enjoyable characters in modern science fiction…Silverberg is a master wordsmith and alchemist of the imagination." —Philadelphia Inquirer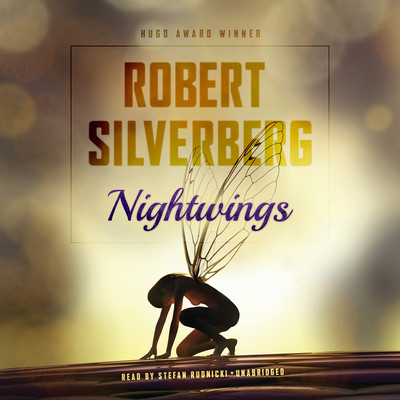 You can bet that Stefan was not about to settle for just one story from this "master wordsmith." One of Silverberg's most delicious works is NIGHTWINGS, which won the Hugo Award for Best Novella in 1969 and was nominated for the Nebula Award in 1968.
This enduring classic tells the story of one man's journey to find salvation for a planet on the brink of destruction. For a thousand years, mankind has lived under the threat of invasion from an alien race. When threat is imminent, one Watcher must travel to the Hall of Rememberers, where humanity's last hope for survival might be hidden. A haunting, evocative look at a crumbling Earth of the far future and a human race struggling to survive amidst the ruins, full of memorable characters and images that will long linger in your memory.
"Nightwings is Robert Silverberg at the top of his form, and when Silverberg is at the top of his form, no one is better." — George R. R. Martin
Originally published as three stories, Nightwings (September 1968), Perris Way (November 1968), To Jorslem (February 1969), in editions of Galaxy Science Fiction, in his introduction to the now-novel, Silverberg muses that is it "still, I think, a valid vision of Earth's remote future, brought to a whole generation of new readers in a startlingly post-Gutenbergian way." He is referring to e-books, but we at Skyboat can't help but think Stefan Rudnicki's powerful narration lifts the words off the printed page in an entirely new way all his own.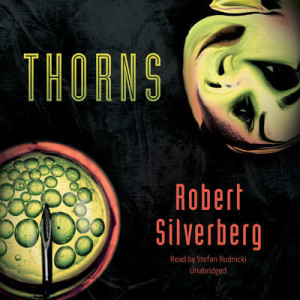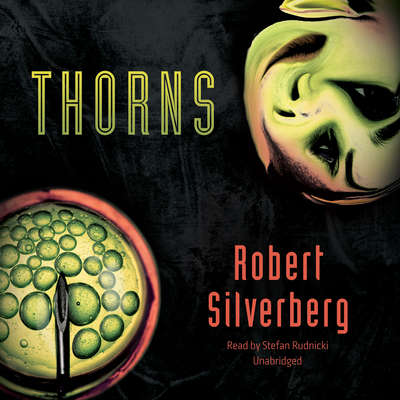 And Stefan didn't stop at just one. He returned to the booth for THORNS, another Hugo and Nebula award nominee (for Best Novel this time!)
"Duncan Chalk is a monstrous media mogul with a vast appetite for other people's pain. It is inevitable that Chalk should home in on Minner Burris, a space traveler whose body was taken apart by alien surgeons and then put back together again—differently. Burris' pain is constant. And so is that of Lona Kelvin, used by scientists to supply eggs for one hundred children and then ruthlessly discarded. Only an emotional vampire like Chalk can see the huge audience eager to watch a relationship develop between these two damaged people. And only Chalk can make it happen." –downpour.com
And don't think Silverberg has any plans to stop pushing the envelope (or scribbling a story outline on the back of one – don't worry it's part of his writing process, as he explains here)! The Millennium Express: The Collected Stories of Robert Silverberg, Volume Nine, featuring stories written between 1995-2009 was released last August. Volume Nine?! Clearly this whole envelope thing is working for him – and we couldn't be happier.
But you gotta start somewhere, so head on over to Downpour to purchase your copies of STAR OF GYPSIES, NIGHTWINGS and THORNS today!