"He's absolutely the most haunting thing in prose that ever was: I wish I knew how every paragraph he writes (…they are all paragraphs: he seldom writes a single sentence…) goes on sounding in waves, like the note of a tenor bell, after it stops." –Author T.E. Lawrence
Joseph Conrad (1857–1924) was born in Ukraine. Raised by an uncle after the death of his parents, he educated himself by reading widely in Polish and French. At age twenty-one, Conrad began a long career sailing the seas on French merchant vessels, after which he went to London and began writing, using the romance and adventure of his own life for his incomparable sea novels. Though he did not speak English fluently until his twenties, he was a master prose stylist who brought a non-English sensibility into English literature.
"Joseph Conrad's heroes were often alone, and close to hostility and danger. Sometimes, when Conrad's imagination was at its most fertile and his command of English at its most precise, the danger came darkly from within the self. At other times, however, it came from what could not be named. Conrad sought then to evoke rather than delineate, using something close to the language of prayer… Like a poet, he often left the space in between strangely, alluringly vacant." –Irish novelist-poet-critic Colm Tóibín
Skyboat is proud to partner with Blackstone Publishing to produce and publish top-quality audiobooks of classic or little-known texts, ensuring these stories remain accessible to broad audiences. Under the steady direction of Claire Bloom, Skyboat's Stefan Rudnicki rose to the unique challenge of narrating Conrad's complex, poetic prose in not one, not two, not three but FOUR classic audiobooks.
Listen to audiobook samples of CHANCE, THE MIRROR OF THE SEA, THE ROVER, and 'TWIXT LAND AND SEA on Skyboat's SoundCloud.
---
A commercial success thanks to Conrad's timely focus on "the New Woman" and his exploration of the new fad of financial speculation, CHANCE explores what a woman can and must do in such a world when she has "no resources but in herself. Her only means of action is to be what she is."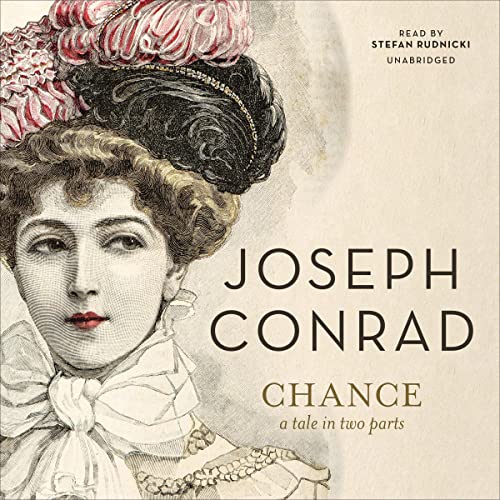 CHANCE: A TALE IN TWO PARTS by Joseph Conrad
Read by Stefan Rudnicki
"Being a woman is a terribly difficult trade since it consists principally of dealings with men." (Joseph Conrad, Chance)
Flora de Barral, the daughter of a bankrupt businessman and swindler, must find her own way in the world when her father is convicted of financial speculation. Unfortunately, this is no easy thing for a single and vulnerable young woman in turn-of-the-century London.
Originally published serially starting in 1912, Chance is told chiefly by Conrad's regular narrator Charles Marlow, who is helped along by some other very observant characters. Together, these narrators unfold the story of Flora's desperate attempts to navigate society and contend with the difficulties of forever relying on the compassion of others for her welfare, a compassion that rarely comes without certain strings attached. Flora must find a way to maintain her dignity and find happiness in a world that, frankly, does not seem to want her to have either. 
---
One of Conrad's two autobiographical memoirs, THE MIRROR OF THE SEA: MEMORIES & IMPRESSIONS is a personal meditation on the sea and its meanings by one of the 20th century's most important novelists.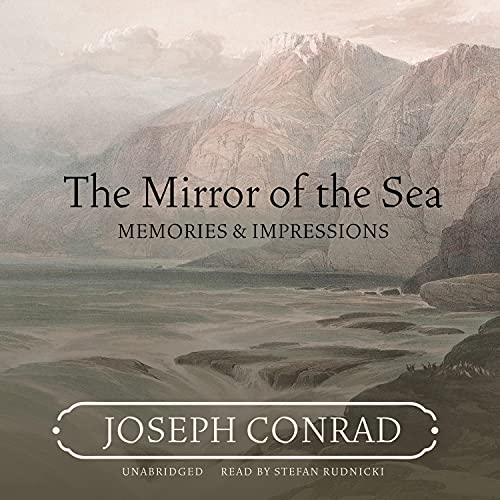 THE MIRROR OF THE SEA: MEMORIES & IMPRESSIONS by Joseph Conrad
Read by Stefan Rudnicki
First published in 1906, The Mirror of the Sea was the first of Joseph Conrad's two autobiographical memoirs. Discussing it, he called the book "a very intimate revelation…I have attempted here to lay bare with the unreserve of a last hour's confession the terms of my relation with the sea, which beginning mysteriously, like any great passion the inscrutable Gods send to mortals, went on unreasoning and invincible, surviving the test of disillusion, defying the disenchantment that lurks in every day of a strenuous life; went on full of love's delight and love's anguish, facing them in open-eyed exultation without bitterness and without repining, from the first hour to the last". 
When Joseph Conrad was discharged from the clipper Torrens in London during the summer of 1893, his seafaring career was over. He had travelled the world by then, risen in rank from apprentice to captain, and survived shipwreck and turbulent seas. While steam and internal combustion were changing maritime travel forever, Conrad started to reflect on the voyages he had made in the Golden Age of Sail, the people and ships he had known, and the extraordinary communities whose lives, language, and very nature were shaped by the swells and silences of the open ocean.
---
"Narrator Stefan Rudnicki delivers an impressive performance of Conrad's story, which centers on the mysterious Jean Peyrol, a French native who has spent his life roaming the world's oceans…. Rudnicki renders a certain disquietude in the dialogue, revealing the disconnect between characters. His performance intuitively reflects the natural cadence of Conrad's prose." —

AudioFile Magazine review
Stefan's narration was selected for AudioFile's Behind the Mic podcast series, in which AudioFile's editors recommend the best in audiobook listening.
Behind the Mic: On The Rover by Joseph Conrad, Read by Stefan Rudnicki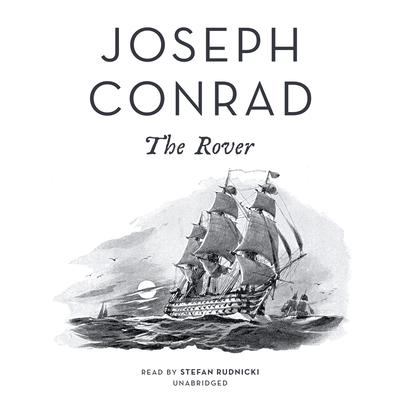 THE ROVER by Joseph Conrad
Read by Stefan Rudnicki
As the Revolution rages in France, a seafarer named Peyrol, a master-gunner in the French republican navy, pirate, and for nearly fifty years "rover of the outer seas," comes to the end of a lifetime lived on the seas and seeks refuge in a remote farmhouse on the French Riviera. As he attempts to settle into a peaceful existence, Peyrol struggles to redefine himself and returns to the sea for one final voyage.
The Rover is the last complete novel written by Joseph Conrad, and was published in 1923 shortly before his death. Conrad placed on the title page an epigraph taken from Edmund Spenser's The Faerie Queene:
Sleep after toyle, port after stormie seas,
Ease after warre, death after life, does greatly please
This also became Conrad's epitaph.
---
'TWIXT LAND AND SEA is a collection of Joseph Conrad's three short stories – "A Smile of Fortune", "The Secret Sharer", and "Freya of the Seven Isles" – published together in a single volume as Conrad meant them to be.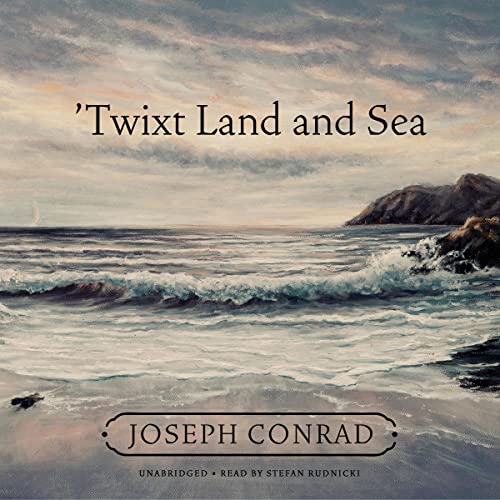 'TWIXT LAND AND SEA by Joseph Conrad
Read by Stefan Rudnicki
In "A Smile of Fortune", a ship's captain meets the seemingly genial Mr. Jacobus and his irritable brother while embarking in the tropics. One a respectable businessman with a considerable reputation, the other a confessed rogue and entrepreneur with no reputation left to lose, the captain is at a loss to determine which he should befriend. In this masterly tale of misplaced loyalty, family feuds, and illicit bargaining, the captain finds himself the unwitting partner in a deeply unorthodox transaction.
In "The Secret Sharer", Leggatt, formerly chief mate of the Sephora, a neighboring ship in the Gulf, sneaks onto a young, untested captain's ship and joins him on deck. Leggatt admits to killing a fellow crewman a few weeks ago, for which he was subsequently stripped of his duties and kept under arrest onboard. The captain hides him from his own crew…and must decide his fate.
Conrad explores how the lust for power can drive men to greatness – or its opposite – in "Freya of the Seven Isles", a sweeping saga set against a turbulent background of barely suppressed hostilities between Dutch and British merchant navies in the Indian Ocean basin.
---
Purchase your copies of CHANCE: A TALE OF TWO PARTS, THE MIRROR OF THE SEA: MEMORIES & IMPRESSIONS, THE ROVER, and 'TWIXT LAND AND SEA today!