Skyboat Media, together with Blackstone Publishing, is proud to present a brand new, original collection of short stories from the pioneer of German Romanticism!
While you may know E.T.A. Hoffmann as the author of the classic Christmas story, "Nutcracker and the King of Mice", or as the inspiration for the opera Tales of Hoffmann by Jacques Offenbach, his body of literary and musical works extends far beyond those, and he has inspired much of the Gothic literature we are familiar with today!
E.T.A. Hoffmann (1776-1822), full name Ernst Theodor Amadeus Hoffmann, wrote many fantasy and Gothic horror stories that inspired writers and composers alike during the Romantic era, though the works they inspired are not always as dark as his original stories. Much of Hoffmann's work highlights the corruptibility of the human mind as well as the darker side of human nature hidden behind the "harmony" of the upper classes. Hoffmann wrote two novels and more than fifty short stories, and he was also a jurist, composer, music critic, draftsman and caricaturist. His diverse artistic interests can be heard in each story of this collection even, as they range from the humorous and psychological to the fantastical and macabre.
---
Most of us are familiar with the delightful ballet The Nutcracker, but Hoffmann's original story has a much more sinister air to it. "Nutcracker and the King of Mice" delves into the unique and shocking origin of Nutcracker himself and shows poor little Marie being tormented by the King of Mice for days on end before the final battle. (Side note! If you are reading the name Marie and thinking "Marie!? Who is Marie? Everyone knows Clara is the little girl who saves Nutcracker!" Well in the original story, Marie is in fact the little girl and Clara is the name of her favorite doll, but many ballet companies today use the names interchangeably.)
And if you've ever head of the comedic ballet Coppélia, you might be surprised to learn that it was inspired by one of Hoffmann's most frightening and most written-about stories, "The Sand-Man." (Sir Walter Scott's 1827 essay "On the Supernatural in Fictitious Composition" features close readings and analyses of both "The Sand-Man" and another story of Hoffmann's "The Entail," and Sigmund Freud's 1919 essay, "The Uncanny," also features an analysis of "The Sand-Man"). There are automatons in both Coppélia and "The Sand-Man," but, in Hoffmann's story, falling in love with one does not have the same fortunate ending, and the Sand-Man in his story is most certainly not the one you might remember from your childhood bedtime stories.
---
 But not all of Hoffmann's stories had the same dark, Gothic themes! Another important aspect of his writing that is highlighted in this collection is his appreciation for art in all its forms. Hoffmann himself wrote many operas, including Undine and Liebe und Eifersucht, and was a visual artist as well. This understanding of the importance of asserting one's sense of self through art is featured in some form in each of these stories, though not always by means of art in the traditional sense. Of course in "The Cremona Violin" and "Arthur's Hall" you have a master violinmaker and a painter, but in "The Mines of Falun" and "The Story of Serapion" Hoffmann treats the mining of precious metals and jewels and the mental and verbal gymnastics of a philosopher and logician as forms of art themselves. It seems that whatever pursuit that takes the whole of what someone is, is worthy of the name in Hoffmann's stories. And while some characters are able to learn who they are and what they truly want through their art, whatever form that may take, others are driven mad by either inability or utter obsession.
"Art embroiders our life with flowers; amusement, recreation after serious business—
that is the praiseworthy end of all effort in art; and the attainment of this end is the
more perfect in proportion as the art products assume a nearer approach to
excellence. This end is very clearly seen in life; for it is only the man who pursues
art in the spirit I have just mentioned who enjoys comfort and ease; whilst these for
ever and eternally flee away from the man who, directly contrary to the nature of the
case, regards art as a true end in itself—as the highest aim in life."

-E.T.A. Hoffmann, "Arthur's Hall"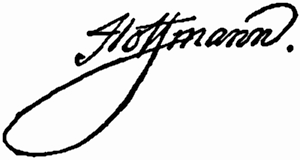 ---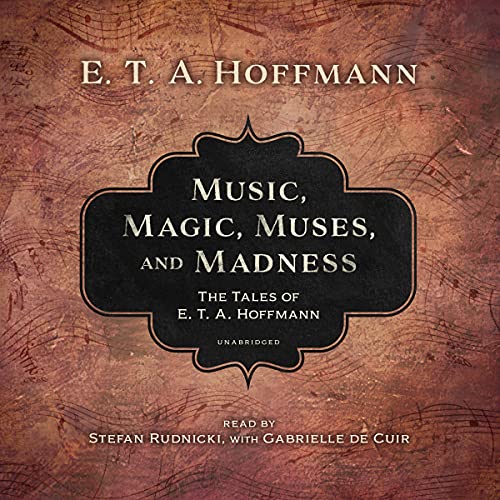 MUSIC, MAGIC, MUSES, AND MADNESS: THE TALES OF E.T.A HOFFMANN by E.T.A. Hoffmann
Read by Stefan Rudnicki, with Gabrielle de Cuir
"Don't you too believe, kindly reader, that the sparks which fall into our hearts from the higher regions of Love are first made visible to us in the hours of hopeless pain? And so it is with the doubts that storm the artist's mind. He sees the Ideal and feels how impotent are his efforts to reach it; it will flee before him, he thinks, always unattainable. But then again he is once more animated by a divine courage; he strives and struggles, and his despair is dissolved into a sweet yearning, which both strengthens him and spurs him on to strain after his beloved idol, so that he begins to see it continually nearer and nearer, but never reaches it."
– E.T.A. Hoffmann, "Arthur's Hall"
In this original compilation from Skyboat Media, composers and artists, miners and soldiers, tinkerers and amateur psychologists must fend for themselves in the struggle for their own "Ideal" wherein they may find either happiness and salvation, or tragedy and madness.
Full Contents:
The Cremona Violin
The Mines of Falun
The Story of Serapion
Nutcracker and the King of Mice
Arthur's Hall
The Sand-Man
Originally published in German between 1816-1818 and in English between 1885-1908.