For those of you who don't live under a pair of very large headphones as we do, the Audies are essentially the audiobook world's Oscars, and this year, Skyboat Media has the honor of being associated with ten nominated books—meaning we either produced, directed, edited and/or narrated each project.
The two superstar publishers who made all these stellar audiobooks possible are Audible.com and Zondervan. And while we're on the topic of gratitude: a very special thank you to the unsung heroes and heroines who comprise the illustrious panel of judges who spend countless hours listening to all the nominees. That's the thing that sets the Audies apart in the pantheon of entertainment awards—these folks listen before they cast their votes.
But back to that beautiful number: ten.
Sounds like a countdown number to us.
So that's what we're gonna do.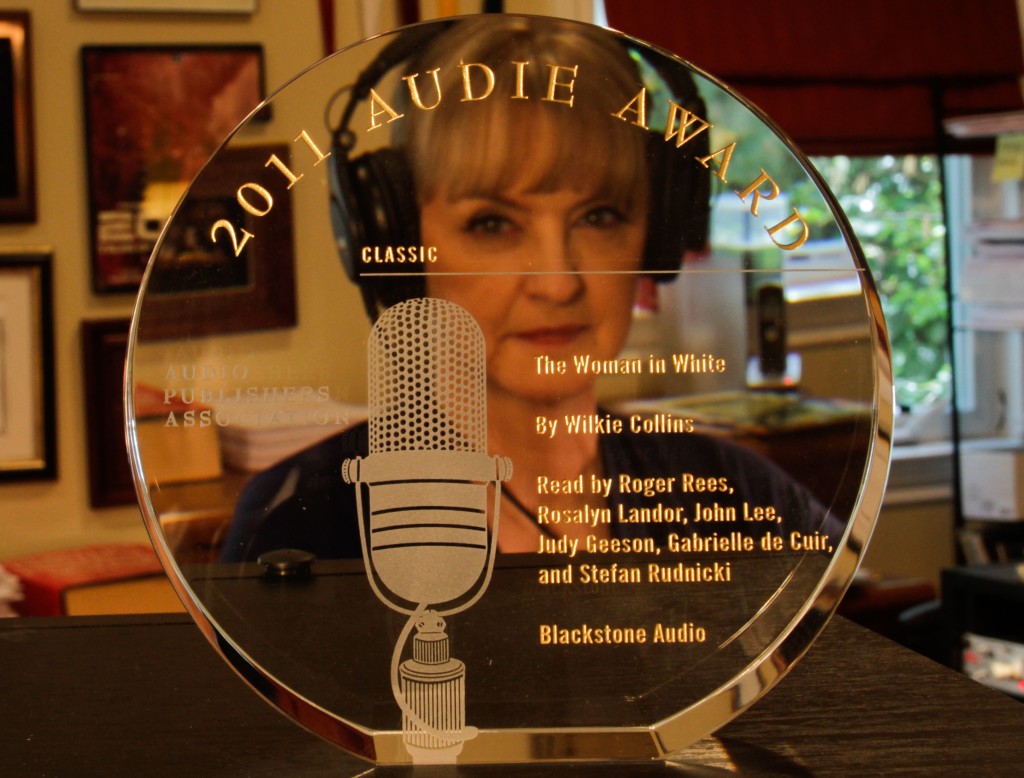 A countdown between now and the awards ceremony on May 30th at the New York Historical Society so that you can share in our very sincere pride at the work we produced last year. We believe in giving individual, velvet-glove treatment to each book and author that comes our way, and we'd like you to know a little bit more about the "MAKING" of each book.
Each week we'll focus on one or more of our finalists, bringing you exclusive interviews with our talented authors and narrators, sneak peeks into our studios, and many more Audie-inspired goodies that we've got hidden in our speakers.
From Anne Hathaway's inspired interpretation of The Wizard of Oz to the Broadway-star-packed multi-voice performance of My Awesome/Awful Popularity Plan to the entirety of the King James Bible (eighty-seven hours of pure Cecil B. deMille audio magnificence), these projects are as wide-ranging as they are fascinating, and we're just grinning ear to ear that the APA loves them as much as we do.
So here's a list of our ten projects (in no particular order, of course; we love all our kids equally):
INVINCIBLE: THE LOST FLEET written by Jack Campbell
Narrated by Christiam Rummel (Audible, Inc.)
Category: Science Fiction
MY AWESOME AWFUL POPULARITY PLAN written by Seth Rudetsky
Narrated by Seth Rudetsky, Andrea Burns, Paul Castree, Jesse Tyler Ferguson, Josh Gad, Ana Gasteyer, Megan Hilty, Marc Kudisch, Will Swenson (Audible, Inc.)
Category: Multi-Voice Performance
DRACULA written by Bram Stoker
Narrated by Alan Cumming, Tim Curry, Simon Vance, Katherine Kellgren, Susan Duerden, John Lee, Graeme Malcolm, Steven Crossley, Simon Prebble, and James Adams (Audible, Inc.)
Category: Classic; Multi-Voice Performance
Also, selected as a finalist in Achievement in Production
COMING HOME written by Karen Kingsbury
Narrated by Stefan Rudnicki and Gabrielle de Cuir (Zondervan, Inc.)
Category: Inspirational / Faith-Based Fiction
HEROES DIE written by Matthew Stover
Narrated by Stefan Rudnicki (Audible, Inc.)
Category: Fantasy
THE WONDERFUL WIZARD OF OZ written by L. Frank Baum
Narrated by Anne Hathaway (Audible, Inc.)
Category: Female Solo Narration
SLOUCHING TOWARDS BETHLEHEM written by Joan Didion
Narrated by Diane Keaton (Audible, Inc.)
Category: Short Stories / Collections
BEING THERE written by Jerzy Kosinski
Narrated by Dustin Hoffman (Audible, Inc.)
Category: Male Solo Narration
KJV AUDIO BIBLE, PURE VOICE
Narrated by Rene Auberjonois, Theodore Bikel, David Birney, Scott Brick, LeVar Burton, Maxwell Caulfield, Samantha Eggar, Robert Forster, Edward Hermann, Gates McFadden, Richard McGonagle, Juliet Mills, John Rubinstein, Stefan Rudnicki, and Kristoffer Tabori (Zondervan, Inc.)
Category: Inspirational / Faith-Based Non-Fiction
SOCIETY'S CHILD written and narrated by Janis Ian
2013 Grammy Winner in Spoken Word Album Category
Narrated by Janis Ian (Audible, Inc.)
Category: Author Narration; Achievement in Production
Also selected as a Finalist in Achievement in Production
Click here for a full list of all Audie nominees, and check back soon for exclusive Skyboat content as we count down to the 2013 Audies!