Sarah Bernhardt, or the Divine Sarah as she was known by her fans, was a legendary French actress, possibly "the most famous actress the world has ever known." La Divine Sarah was the center of one of the Western world's first cults of personality, and certainly it's no wonder that she was! She was an author as well as an actress; she organized a military hospital in the Odéon theatre during the Franco-German War; she ran her own traveling theater company; she was a member of the Legion of Honor in 1914; she performed for soldiers during WWI even though her leg had been amputated; and she managed the Théâtre de la Renaissance and the Théâtre des Nations, which she renamed the Théâtre Sarah Bernhardt and managed until her death in 1923. She was truly an eccentric and iconic woman; she even kept a coffin in her bedroom, and at least once she actually slept in it!
She was born Henriette-Rosine Bernard in France in 1844 and made her debut in 1862 in the title role of Racine's Iphigenia, after attending the government-sponsored school of acting, the Paris Conservatoire. While Bernhardt was by no means an instant success (in fact, her teachers at the conservatory did not that think she held much promise as an actress), she went on to become an international household name through her expressive and subtle interpretations. Her unique, "silvery" voice and pure diction, paired with her general air of beauty and grace, and not to mention her unrelenting self-promotion, aided in her success both in Europe and America as well. Mark Twain was one such notable American fan!
Mark Twain once identified five kinds of actresses: "bad actresses, fair actresses, good actresses, great actresses — and then there is Sarah Bernhardt."
Being such a one-of-a-kind actress, her most famous roles were results of the most unexpected casting. Known for playing male characters, she was one of the first women to perform the titular character in Hamlet. Bernhardt also often cast herself in roles for which she too old, including the role of nineteen-year-old Joan of Arc (which Bernhardt played at forty-six!). In his reaction to Bernhardt's casting, Mark Twain once said that "Mme. Bernhardt is so marvelously young. She and I are two of the youngest people alive."
In 1920, Bernhardt published her novel, Petite Idole, which was translated into English as THE IDOL OF PARIS in 1921. The heroine of this story is an actress as well, and it can seem as though Bernhardt has imbued the novel with her own career ambitions. Bernhardt also wrote an autobiography, Ma Double Vie: mémoires de Sarah Bernhardt, and a treatise on acting, L'Art du théâtre. All three of these works give but glimpses into the unconventional and unforgettable life of Sarah Bernhardt, and Skyboat is pleased to bring her novel to life with the equally "silvery" voice of Gabrielle de Cuir.
And this is not Gabrielle's first foray into the life of Sarah Bernhardt!
In 2020 Gabrielle narrated THE FIRST ACTRESS by C.W. Gortner, a fictional account of the French actress's life, for Random House Audio. Gabrielle was an Earphone Award Winner for her narration!
"Gabrielle de Cuir's luminous narration transports listeners into the turbulent life of acclaimed nineteenth-century French actress Sarah Bernhardt […] Her versatile narration smoothly shifts among the numerous male and female characters–including Bernhardt's family members, actors, aristocrats, courtesans, and writers Victor Hugo, Alexandre Dumas, and Oscar Wilde. De Cuir imbues each personality with razor-sharp intensity and authenticity. Her accents are impeccable, and she keeps a steady pace as she unfolds this lavish story."
And just wait until you hear Gabrielle bring Bernhardt's own words alive as well!
---
THE IDOL OF PARIS by Sarah Bernhardt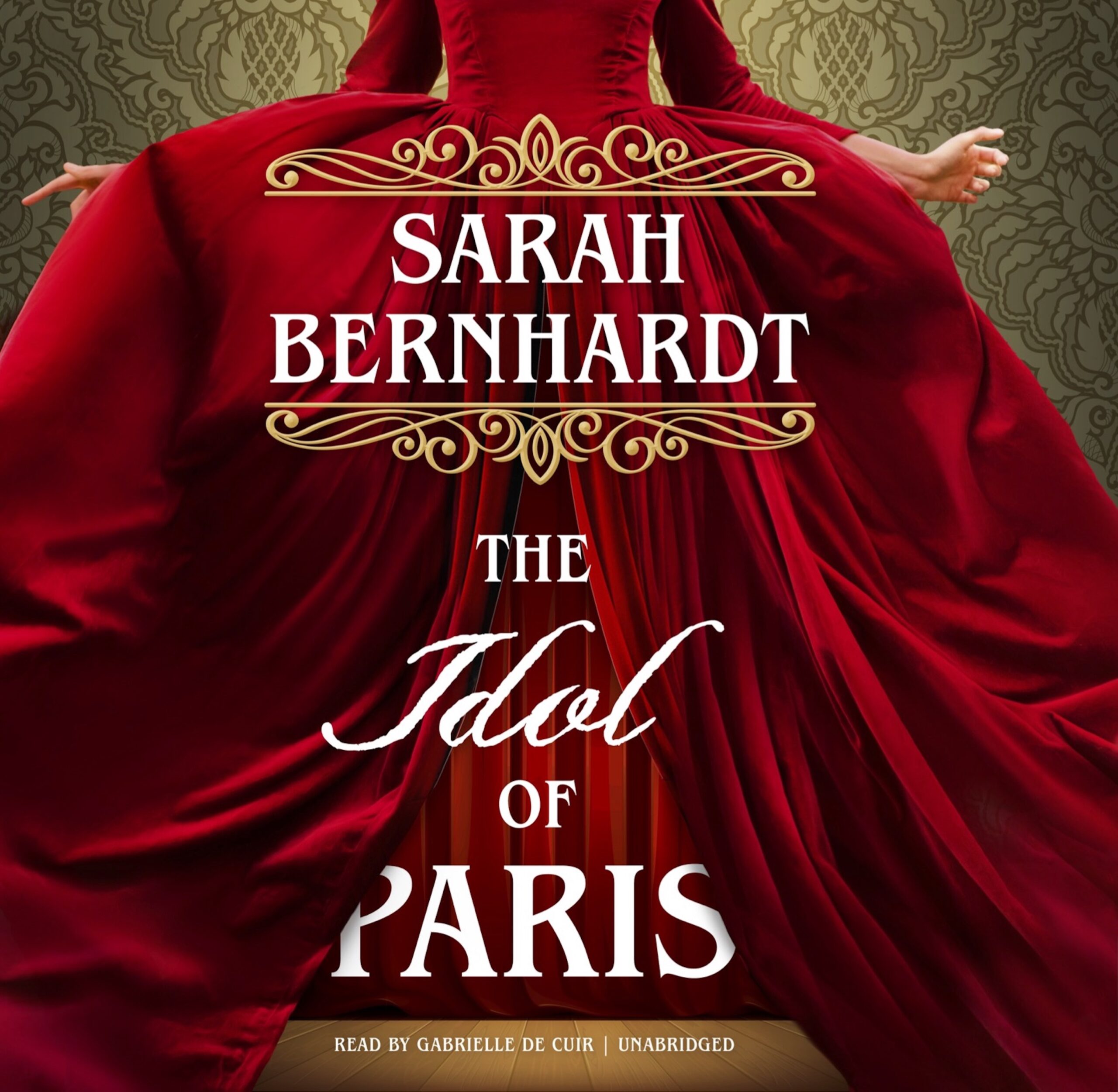 Read by Gabrielle de Cuir
"Esperance had gone her way, trembling with happiness. Everything in life seemed opening for her. For the first time she was aware of her own individuality; for the first time she recognized in herself a force: would that force work for creation or destruction?"
Fifteen-year-old Esperance Darbois, the only daughter of philosophy professor François Darbois, is determined to become a woman of the stage. But becoming an actress will sully the respectability of the Darbois family, damage her marriage prospects, and harm her father's distinguished reputation.
A romantic adventure featuring thwarted love and dramatic duels written by pioneering actress Sarah Bernhardt, The Idol of Paris is the kind of prime melodrama Bernhardt would have starred in on stage or in film.
Originally published in French in 1920 and in English in 1921.