KATA, THE IRON THORN will do for the Caribbean what the Black Panther movie of 2018 did: igniting world interest in stories set in the African diaspora. This engaging narrative weaves together slavery and piracy, myth and legend, geography and science, love and intrigue—with surprising twists revealed.

– Dr. Carole Boyce Davies, professor of English and Africana studies at Cornell University and a renowned author
When Terry Lee Barrett decided to make a novel out of his screenplay for KATA, THE IRON THRON, we here at Skyboat were so pleased to bring the audiobook to life. Audiofile Earphone Award-winning narrator Mirron Willis narrates this action-packed adventure, blending Jamaican history and mythology with the fast pace of the superhero tales of the modern age!
Check out the trailer for KATA right here:
Fun fact!
The music in the trailer was recorded by Terry Lee Barrett himself with Franz Ace at BMR studios in Philly, and the drawing of Kata on the cover was done by David Hahn of Marvel and DC fame!
---
A word about KATA, THE IRON THORN from the author himself, Terry Lee Barrett:
I have written this semi-autobiographical story in honor of my late Father and world-renowned anthropologist, Doctor Leonard E. Barrett, Sr. (1920–2003). Dr. Barrett was the author of the classic books The Rastafarians, The Sun and the Drum, and Soul-Force. The Rastafarians has been honored as the #1 bestseller on Rastafarianism.
However, my Father's The Sun and the Drum, which covers witchcraft and psychic Phenomena in Jamaica, inspired the Kata story.
I have wanted to write this story since I was six-years-old when my Father related fascinating Jamaican history and, yes, ghost stories that scared me to no end.
Since Covid-19 put the Hollywood production of the Kata live-action movie on hold in 2019, I decided to put the Kata screenplay into novel form. The publishers love the Kata manuscript and describe it as "a fast-paced fantasy similar to The Princess Bride, by William Goldman, and Twenty Thousand Leagues Under the Sea, by Jules Verne."
---
And you can check out this interview with Terry Lee Barrett talking about his whole career and how he came to write KATA on PHILLYCAM's Black Sci-Fi TV Show:
"If you like Black Panther, go "Forever Forward" with this Afrocentric Super Hero Fantasy called "

Kata The Iron Thorn

!". It's Fantasy based on Historical Facts!
To learn more about the whole KATA project, check out the full website here!
---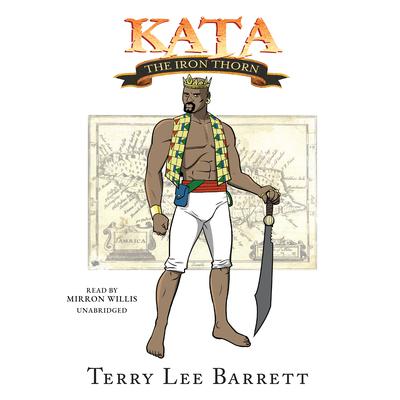 KATA, THE IRON THORN by Terry Lee Barrett
Read by Mirron Willis
Caribbean-born disc jockey Terry Lee Barrett works in Philadelphia as DJ Terry Love (TL). On a trip home to Jamaica, TL learns the legend of Kata and the Iron Thorn, a mighty warrior and his supernatural sword, a man who fought against ghosts and pirates in 1655.
TL also discovers that he's the youngest descendent of Kata―a family secret his Father never wanted him to learn. But when TL meets his Uncle Wilvo, he's persuaded that he must find Kata's sword and other magical items for fighting against the violence, greed, ignorance, and prejudice still thriving in the present day.
TL's quest sends him on a suspenseful and thrilling adventure, where he soon finds love and learns life lessons. But can he live up to his ancestor's greatness and bring virtue to the world again? TL could become a legend in his own right … if he survives.
Get your copy of KATA, THE IRON THORN today!
Listen to a sample on our SoundCloud here!