We Love Our Authors
When stories come to us, we care for them, but here at Skyboat Media, it's truly all about the authors.  Because let's face it: without them, we wouldn't even be here.  We pride ourselves on building personal relationships not only with our publishers, narrators, and editors, but also with the authors who pen the works we record, and we believe that this is what sets us apart from the rest.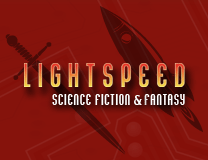 One of our all-time favorite ways of discovering new writers is via Lightspeed Magazine, a fabulous sci-fi and fantasy monthly published by award-winning anthologist John Joseph Adams.  Skyboat Media produces four podcasts per month in conjunction with Lightspeed, and we are wowed by the quality and imagination of the work again and again and again.  In June we posted one story per day to celebrate Audiobook Month and shed a bit of sun on some of our favorite writers.  From all-stars such as Joe R. Lansdale, Jonathan Maberry, and David Brin to relative newcomers like Ken Liu and Kat Howard, there is truly something delightful in store for each and every reader.  See the full list here.
Featured Skyboat Authors include:
Gregory Benford, Alex Beldsoe, Ben Bova, LeVar Burton, Orson Scott Card, Deepak Chopra, Edie Claire, Cory Doctorow, Harlan Ellison, Jonathan L. Howard, Jonathan Kellerman, Ursula K. Le Guin, Charles McCarry, David Weber and John Ringo, Lew Shiner and Wil Wheaton
This page is dedicated to a highlighting our ever-growing cast of talented authors and also aims to be a resource for all you writers out there, so please stay tuned and check back often.  You can also follow us @SkyboatMedia.  Tweet us your comments, requests, and writerly desires.