About Skyboat Media Publishing
When stories come to us, we care for them.  An award-winning publisher and production company of audio, theatre and film.
SKYBOAT MEDIA (SKYBOAT ROAD COMPANY, INC.) is an audiobook publisher and a creative ensemble of media artists and technicians.  Best known for high-quality audiobook publishing and presentations, Skyboat has also been active in radio, stage, and film, offering full production personnel and facilities, including performing talent, writing, engineering and editing, directing and producing services.
Veteran Grammy and Hugo Award winning producers and directors in the audiobook business
Award winning talent. Celebrity and non-celebrity narrators.
Fully equipped digital voice recording studios in Studio City, CA.
The finest digital audio editing and mastering.
Full library of musical and sound effects resources.
Who We Are

Stefan and Gabrielle share a strong international background having lived variously in Stockholm, Krakow, Rome, Montreal, New York, London and Los Angeles, with appropriate language skills. They hold degrees from Columbia College and both UCLA and Yale School of Drama.  They have directed and/or produced 5 films (2 features) and 500 stage productions, including 30 Brecht plays and 40 Shakespeare productions in the early days as Skyboat Road Company, Inc with then partner, Judith Cummings.
Skyboat Media on Twitter
Skyboat Media on Facebook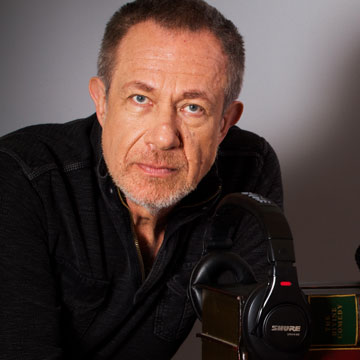 Stefan has produced, directed and/or executive produced nearly 3,000 audiobooks for Skyboat Audio and major publishers such as Audible, Inc., Blackstone Audio, Dove Audio, MacMillan Audio, Random House Audio Publishing Group and Zondervan.  He has narrated hundreds of audiobooks, including non-fiction titles Hubris, Legacy of Ashes and Deep Survival, as well as multiple fiction titles by Orson Scott Card (Ender's Game and Lost Boys, among others), Charles McCarry, Alex Bledsoe, Ben Bova, and Louis L'Amour.  Stefan won a 2013 Grammy for Best Spoken Word for his work with Janis Ian on Society's Child.  He has won several Audie Awards, including two for Male Solo Narration for Lost Boys and Hubris. In 2012, he was acknowledged as a Golden Voice by AudioFile Magazine.  He also has a dozen published books to his name, including The Actor's Book of Monologues for Women and The Actor's Book of Classical Monologues, two must-have collections for any actor.
There's a lot to like about Stefan–his fine vocal instrument, his technique, his professionalism. But what I admire most about him, both as a producer and narrator, is his impeccable taste.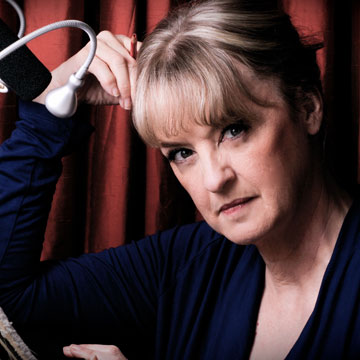 Gabrielle has narrated over 400 hundred titles specializing in fantasy, humor, and titles requiring extensive foreign language and accent skills.  Her "velvet touch" as an actors' director has earned her a special place in the audiobook world as the foremost choice for best-selling authors and celebrities.  Short list of those directed: Anne Hathaway, Emilio Estevez, Wil Wheaton, Dr. Daniel G. Amen, Elijah Wood, Deepak Chopra, Eric Idle, Nancy Cartwright, Michael York, Ed Herrmann, and Joe Mantegna.  She is the writer and director of the Award winning short film THE DELIVERY, which deals with an Alice-in-Wonderland version of audio books.  She spent her childhood in Rome growing up with her wildly artistic and cinematic father, John de Cuir, four-time Academy Award winning Production Designer, an upbringing that her to be fluent in Romance languages and to have an unusual appetite for visual delights.
Whether she's in front of the mic as a narrator, or behind the scenes as producer, Gabrielle is responsible for creating some of the most fun, innovative new full-cast and multi-narrator audio theatre recordings.
Gabrielle on Twitter
Gabrielle's LinkedIn profile
Cassandra De Cuir
Cassandra De Cuir is a veteran audiobook producer and director. She has over a decade of experience in audiobooks, with significant ventures into television and film, working with the Art Department on the final season of "24" and as private assistant to Producer Brannon Braga on Terranova, and recently on the 12 time Emmy Nominated COSMOS. She is known to her actors as the "narrator whisperer" because of her abilities to work with all voice talent, whether they be beginners who require special coaching or veterans who require someone with exquisite taste and industry etiquette. Her attention to detail is only surpassed by her sense of author tone to story and continuity. She has trained as a film script supervisor and has directed Wil Wheaton in John Scalzi's Audie Winning  FUZZY NATION and in Randall Munroe's WHAT IF?, Kerry Washington, Scott Brick and many other luminaries. Recently, the co-produced and directed Martin Short here at Skyboat narrating his autobiography I MUST SAY And with David Spade on ALMOST INTERESTING.
Cassandra De Cuir on Twitter
Among the hundreds of celebrity readers with whom we have worked are:
Ed Asner, René Auberjonois, Jim Belushi, Annette Bening, Theodore Bikel, David Birney, Andre Braughner, Roscoe Lee Browne, LeVar Burton, Gabriel Byrne, Jimmy Carter, Carol Channing, Deepak Chopra, Tim Curry, Cameron Diaz, Minnie Driver, Emilio Estevez, Robert Forster, Linda Hamilton, Julie Harris, Anne Hathaway, Gregory Hines, Dustin Hoffman, Sir Ben Kingsley, Patrick Macnee, Holly Madison, Melissa Manchester, Bill Pullman, Burt Reynolds, John Rubinstein, Martin Sheen, Martin Short, David Spade, Rod Steiger, Hilary Swank, Blair Underwood, David Warner, Wil Wheaton, Paul Winfield, Elijah Wood, Alfre Woodard, and Michael York.
Clients have included:
Audible Studios
Audio Literature
Audio Renaissance (now Macmillan Audio)
Blackstone Audiobooks
Books On Tape
Brilliance
Dove Audio
Fantastic Audio
Good Times Entertainment
Harper Audio
Macmillan Audio
Penguin Random House Audio Publishing Group
Reading Rainbow Kidz
Time Warner Audiobooks (now Hachette Audio)
Zondervan