All's well here at Skyboat. Both Stefan Rudnicki and Gabrielle de Cuir are recording. Cassandra de Cuir is directing here at this time. We are pleased to offer the Tardis Isolation Booth, a SAG-AFTRA Approved Audiobook Recording Studio: click here to learn more or book a session. If you have any questions, drop us a line at stefan@skyboatmedia.com or gabrielle@skyboatmedia.com.
Skyboat Media and

Spatterlight Press

, together with Blackstone, are pleased to bring the Demon Princes series by Jack Vance to audio in 2022. (Read the full series announcement

here

!)

Best known as a science fiction and fantasy writer, Jack Vance has won several awards in those genres, including the World Fantasy Award for Lifetime Achievement and a number of Hugo Awards. The Demon Princes is a five-book series of science fiction novels, which cumulatively relate the story of one Kirth Gersen as he exacts his revenge on five notorious criminals, collectively known as the Demon Princes, who carried his village off into slavery during his childhood. The five audiobooks will be narrated by Stefan Rudnicki.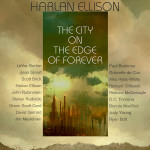 And have you bought your copy of THE CITY ON THE EDGE OF FOREVER yet?
Learn More