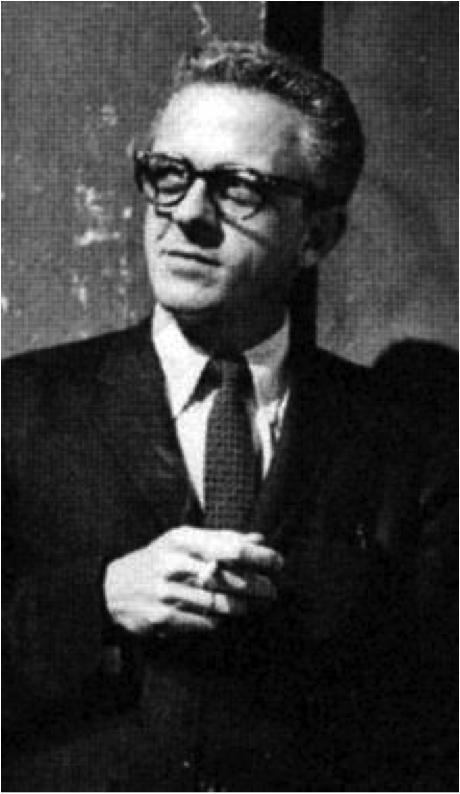 Ray Bradbury once called Charles Beaumont a pomegranate. This wasn't due to the fact that Beaumont had a fruity disposition, but rather because the seeds of his labor had gone all over. Despite the fact that Beaumont (1929–1967) died much too young, he still is one of the most influential American authors in the subgeneres of horror and science fiction. The team at Skyboat has been in love with his short stories for many, many years, though most will remember him for his work in TV and film, particularly for his success in penning several beloved episodes of The Twilight Zone.
Skyboat is thrilled to publish not one, not two, but three of Beaumont's works on audio. Actually, make that four.
How about starting with his first published novel, written with John Tomerlin?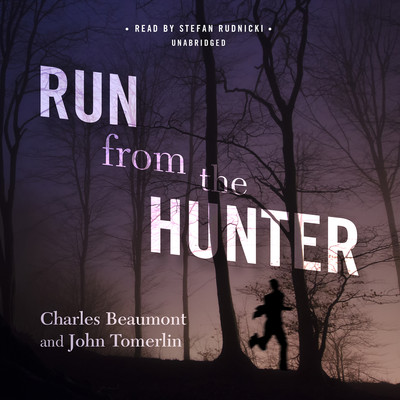 A classic "wrong man" suspense novel, RUN FROM THE HUNTER is a fast-paced, tightly plotted thriller about a man convicted of a crime he did not commit. En route to prison, there is a train crash, giving him the perfect opportunity to escape – and set out to prove his innocence. Sound a bit familiar? This novel inspired The Fugitive! Stefan Rudnicki narrates Beaumont's thrilling debut.
Here's what's been said about Beaumont and this gripping classic:
"In his first published novel, Charles Beaumont demonstrates all the hallmarks of his future writings: a love for language, the mix of tense societal situations leading to an explosion of rage, in-depth character analyses, the use of vivid imagery, dramatic dialogue, sensitivity, a keen sense for societal commentary coupled with an eclectic style, and a vivid visual imagination." —Harold Lee Prossner, The Live and Works of Charles Beaumont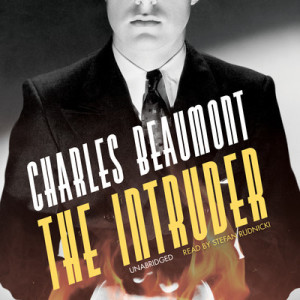 And all of those hallmarks are on clear display in THE INTRUDER, Beaumont's portrait of mid-1950s America.
"He was a leader of men, but he was evil. He was a stranger, but he brought lust and love, rape and hate to this quiet southern town. He was … the intruder. It was a sleepy southern town with nice folks and good schools. Then the intruder arrived from the North. With him came trouble, fear, and hate so vicious it could turn neighbor against neighbor, child against child, white against black—and destroy them all." –downpour.com
And now, on to stories!
Originally published in 1960, NIGHT RIDE AND OTHER JOURNEYS was Beaumont's third collection of stories. It includes one of his most famous tales, "The Howling Man," which Beaumont later adapted into an equally famous TZ episode. This collection is narrated by Stefan Rudnicki, Paul Boehmer, and the one and only Harlan Ellison, who met Beaumont back in Chicago many years ago and shared a great friendship with him. The savvy Susan Hanfield directed.
Beaumont is also the subject of a fact-packed documentary: "Charles Beaumont: The Short Life of Twilight Zone's Magic Man" by writer and filmmaker Jason Brock. This two-hour tale pieces together the man Beaumont was through the countless writers he influenced: see icons such as Ray Bradbury, our very own narrator Harlan Ellison, and many more, share stories of Beaumont, his writing and his life, not to mention some excellent Twilight Zone clips. Catch the extended trailer below:
And since one collection of Beaumont's stories simply isn't enough, we are pleased to report that THE HUNGER, AND OTHER STORIES is currently being recorded (by some killer narrators).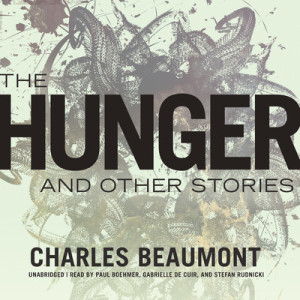 Published in 1957, THE HUNGER, AND OTHER STORIES is Beaumont's first collection and has been called by the N.Y. Herald Tribune "Extraordinary … gives Mr. Beaumont undeniable stature as an artist."
Be the first to get what August Derleth of the Chicago Tribune called "A memorable first book of fiction, one which belongs on any shelf of the best contemporary weird tales."
Ranging in tone from the chilling gothic horror of "Miss Gentilbelle," where an insane mother dresses her son up as a girl and slaughters his pets, to deliciously dark humor in tales like "Open House" and "The Infernal Bouillabaisse," where murderers' plans go disastrously awry, these seventeen stories demonstrate Beaumont's remarkable talent and versatility. Narrated by Paul Boehmer, Gabrielle de Cuir, and Stefan Rudnicki. –downpour.com
Your full Table of Contents for THE HUNGER, AND OTHER STORIES:
Miss Gentilbelle – Stefan Rudnicki
The Vanishing American – Paul Boehmer
A Point of Honor – Stefan Rudnicki
Fair Lady – Gabrielle de Cuir
Free Dirt – Stefan Rudnicki
Open House – Paul Boehmer
The Train – Stefan Rudnicki
The Dark Music – Gabrielle de Cuir
The Customers – Paul Boehmer
Last Night the Rain – Stefan Rudnicki
The Crooked Man – Paul Boehmer
Nursery Rhyme – Stefan Rudnicki
The Murderers – Stefan Rudnicki
The Hunger – Gabrille de Cuir
Tears of the Madonna – Stefan Rudnicki
The Infernal Bouillabaisse – Paul Boehmer
Black Country – Stefan Rudnicki
Purchase your copies today and rediscover the magic of the iconic Charles Beaumont.