We are

beyond delighted to present the first two fantasy books in THE SHATTERED SKIES SERIES by author

Terry Maggert

.  HEARTBORN and MOONBORN are now available from us for the first time on audio.  Narrated by Gabrielle de Cuir. Terry is a wonderful writer and Gabrielle considers it a great honor to be trusted with this "angelic" series.
Keiron is what's known as a "Heartborn."  They're very rare beings with a gift to give…themselves.
Born high above in a place of war and deception, he is  a being of purity and goodness in a world where violence and deceit are just around every corner.
Keiron has bent time to save a girl he has never met and his disappearance will spark a war he cannot see.
Livvy Foster is seventeen years old.  She has only half a heart.  She's endured a lifetime of pain with little hope of survival. Until Keiron arrives.
In the middle of a brewing war and Livvy's failing heart, Keiron will risk everything for Livvy, because a Heartborn's life can only end in one way:  Sacrifice.
Follow the journey with Livvy and Keiron as seek the truth about her heart, and his power, and what it means to love someone who will give their very life to save you.
---
In MOONBORN (Shattered Skies, Book 2), Livvy Foster has a new heart, home, and place in the sky of her new world.
The fall of Sliver was only the beginning of a civil war.  Angels from across the sky challenge each other to lead a world where time and magic are tools for war.
When House Selinus attempts to become the supreme power in a distant future, they confront a goddess who is older than time itself–and she'll stop at nothing to get the one soul who escaped her deadly grasp:  Livvy.
With deceit, war and love swirling in the clouds above a shattered world that was once Livvy's home, she'll be asked to do something a girl with a broken heart never thought possible.  Fight for Windhook.  Fight for her world.  Take wing with Livvy, one heartbeat at a time.  (Summary courtesy of author's website.)
Excerpts from both books:
Purchase your copies of HEARTBORN and MOONBORN today at downpour.com.
---
Are you a new author or an established author that's running into some challenges?  Do you just need some advice?
Check out Terry Maggert's new YouTube series:  5 MINUTE AUTHOR COACH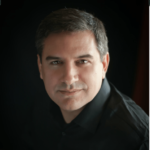 About the author:  Terry Maggert was born and raised in Florida.  He now resides in Tennessee with his wife, son, and a herd of rescued animals.  Fascinated with dragons since can remember,  he's also a lover of history (which he teaches) and used book stores (which he visits when abroad).  Terry is the author of ten books and counting.