Have you ever read a good, old fashioned hardboiled detective novel and thought, 'You know there aren't enough aero-cars and blaster guns in this? And why does this planet only have one sun?'
Well, you're in luck! TWO SUNS AT SUNSET has everything you've been looking for: null-grav tech, professional streamers, cursed detectives, murdered monks, TWO suns, and a tangled conspiracy that threatens the lives of everyone on the planet of Dib.
And guess what? This is only the beginning. TWO SUNS AT SUNSET is Book 1 of TANDEMSTAR: THE OUTCAST CYCLE. Skyboat is proud to partner with Blackstone Publishing to produce the audiobooks for this thrilling series. So keep an eye (and ear!) out for the next installments.
---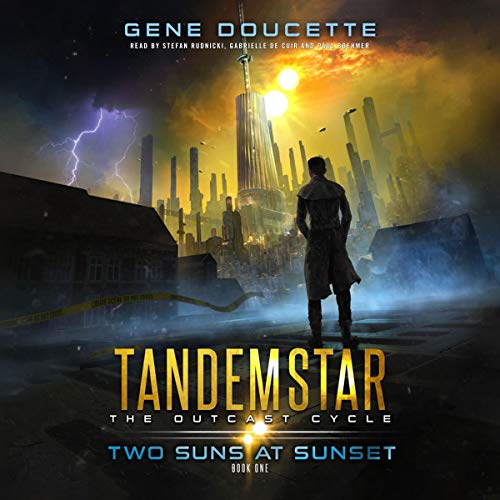 TWO SUNS AT SUNSET (Tandemstar: The Outcast Cycle, Book 1)
Read by Stefan Rudnicki, Gabrielle de Cuir, and Paul Boehmer
In the city of Velon, Detective Makk Stidgeon investigates the murder of Professor Orno Linus, a scholar of astrophysics and dead languages and a member of the powerful religious organization known as the House. Why would anyone want to murder such a devout, widely respected teacher? Nothing about what the professor studies should make him a target, and the protection of the House along with that of his older brother, Calcut Linus, one of the most feared and powerful crime bosses in the city, would surely deter anyone who had it out for him.
But what of Professor Linus's study and belief in the religious phenomenon of the Cull that would bring on the end of the world? And what of the artifact that he stole from the House vault just before his murder?
Here's where Detective Stidgeon comes in. He's one of the top detectives in the city, sure, but he has been living under a curse brought on by his unfortunate birthdate. The brand on his wrist marks Makk Stidgeon as cholem, a bad-luck charm, an outcast. And this Linus case sure feels like bad luck to him.
Makk has a hard enough time trying to do his job with a House leadership that cares less about their dead Brother than whatever object he stole, a rookie partner who might know more than she lets on, a set of demands from Calcut Linus himself, and a news media looking for the flashiest angle. But when video footage adds a new, unexpected suspect to the list, he must figure out what ties all these threads together. And even if he manages to solve the professor's murder, that doesn't mean the mystery is over…
---
Narrators Stefan Rudnicki, Gabrielle de Cuir, and Paul Boehmer (talk about about a talented trio!) bring this heart-stopping, fast-paced, action-packed science fiction fantasy tale to life. Listen to a sample here.
---
Just who is the brilliant mastermind behind this scintillating series?
Gene Doucette is a science fiction and fantasy author. His science fiction novels include THE SPACESHIP NEXT DOOR and its sequel, THE FREQUENCY OF ALIENS; the techno-thrillers FIXER and FIXER REDUX; and the genre mashup UNFICTION. His fantasy books include the IMMORTAL novels (of which there are currently five) and the series of novellas THE IMMORTAL CHRONICLES, as well as the standalone novella EVE. His latest book is IMMORTAL: LAST CALL.
In September, 2018, THE SPACESHIP NEXT DOOR was republished by John Joseph Adams Books, the sci-fi/fantasy imprint of Houghton Mifflin Harcourt. In May, 2021, THE APOCALYPSE SEVEN will be published by JJA Books/HMH. He is currently at work on a large science fiction world-building project taking place on his Patreon site, the result of which will be a multi-novel series.
His website has tons of behind-the-pages info about the Tandemstar series (including a beautiful color map!) and Gene loves to hear from his readers and listeners, so drop him a line.
TWO SUNS AT SUNSET (Tandemstar: The Outcast Cycle, Book 1) is out now. The journey begins here. Purchase your copy today!