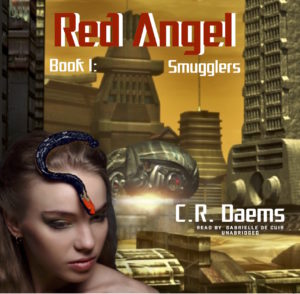 In Red Angel-Book 1:  Smugglers, we meet Anna Paulus, a young girl who is the only member of her family to survive the deadly Coaca virus.  She does this with the help with a rare, red-headed krait, which she believed was sent to her by a Red Angel to take her to her dead parents.  The krait must stay with Anna at all times or she will die.
As Anna grows up, she develops a gift for codebreaking which leads her to be recruited by the Naval Intelligence Agency.  She and a special team are tasked with taking down a ring of interstellar smugglers.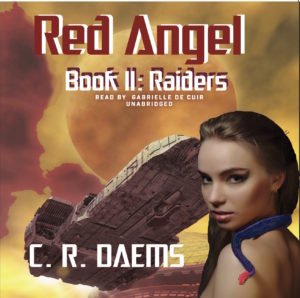 In Red Angel, Book II:  Raiders,  Anna and her team at the Naval Intelligence Agency (NIA) are assigned to stop a group of highly intelligent and extremely well-organized foreign raiders.  The raiders hit several planets with very high value targets and leave no witnesses.  They take anything from computer chips to gems to paintings.  They also seem to know everything about the security systems of their targets.
Can they be stopped?  Especially when the raiders have decided that killing Anna and her team is a perfectly acceptable solution to their problem?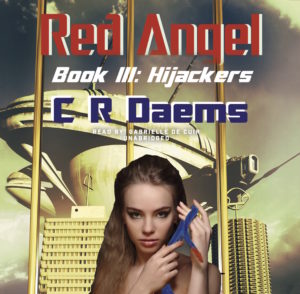 In Red Angel-Book III:  Hijackers,  Anna becomes a full commander and is assigned to manage the NIA station at Eastar.  Seven merchant ships have gone missing in the last year. They appear to have been hijacked and it's up to Anna to find out who's responsible and put a stop to it.
Anna also becomes aware of two threats to the security of the United Alliance of Stars empire.  They threaten not only the fabric of the empire, but Anna herself.  If she hopes to survive, she will need the help of her Red Angel.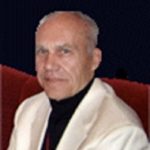 About the author:  Clem Daems served twenty-two years in the US Air Force and has worked as a software engineer, course developer, and adjunct professor, teaching mathematics and Computer Science.  An avid reader of science fiction and fantasy, Clem decided to try his hand at writing.  He began writing his first novel at age seventy.  This novel, "The Talon of the Raptor Clan," was co-authored with Jeanne Tomlin and became a 2010 EPPIE finalist in Fiction/Fantasy.