"I'm to sneak into a foreign country with an illegal weapon, perform an illegal abduction, maybe even an illegal homicide – but I'm to be careful not to hurt anybody's feelings while I'm doing it.  Yes, sir.  Anything else, sir?" Matt Helm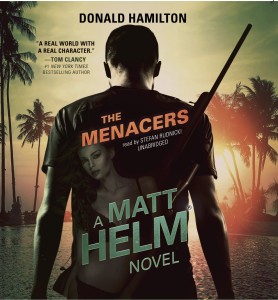 He's baaaack.
Grammy winning narrator Stefan Rudnicki continues as everyone's favorite U.S. government operative in the eleventh audiobook in the Matt Helm series. Skyboat has had such positive fan response from this series, that it is a pleasure to continue with this thriller saga.
In THE MENACERS,  Matt Helm arrives in Mazatlán to help get a captive American woman out of Mexico and to Los Alamos for interrogation.  What information can this woman have that's so important that someone like him is needed to get her out? Flying saucers anyone?
Was this woman really the only survivor of an alien attack on her boat?
It's not only the Americans who are curious about this woman's story.  The Soviets, including Helm's former mistress Vadya, are keeping a close eye on her too.  What's really going on here?
Purchase your copy of THE MENACERS today and find out.
If you like what you hear and want to know how it all got started, check out the other audiobooks in the series.  Available on downpour.com.
About the author:  Donald Hamilton began his writing career in 1946 by writing short stories for fiction magazines. In 1947, he published Date With Darkness, his first novel. Over the course of his career, he would go on to publish a total of 38 novels in the suspense, spy, and western genres. Between 1960 and 1993, Hamilton wrote 27 books in the Matt Helm series.  They've sold over 20 million copies worldwide.