After starting strong, and surviving the first 12 installments, what's next for the U.S. government's favorite counter-agent?
Skyboat's own award-winning narrator Stefan Rudnicki returns as Matt Helm in Donald Hamilton's acclaimed Matt Helm series. Books 13-18 were originally published in the 1970s, and Stefan recently shared that one of the particular pleasures of recording a long-running series is witnessing "the evolution of the style, of the storytelling, and of the character" firsthand. Author Donald Hamilton deftly reflects the changing mores of the times and we can't wait to see (and hear) how Matt Helm adapts to the ever-changing world. 
"If you have half a dozen thrillers at hand and one is by Donald Hamilton, you can either grab it at once or save it for dessert." —New York Herald Tribune, praise for the author
Welcome to the '70s. 
---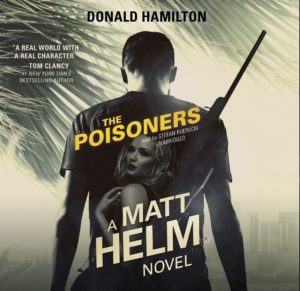 THE POISONERS (The Matt Helm Series, Book 13) by Donald Hamilton
Read by Stefan Rudnicki
When Matt Helm is dispatched to Los Angeles to investigate the shooting of an agent, it wasn't just an assignment—it was personal. To get the answers he wants means run-ins with two-bit hoods, a trio of beautiful women, a bunch of drug traffickers, and his old friend Mr. Soo, whose government has ideas about polluting America to death.
---
THE INTRIGUERS (The Matt Helm Series, Book 14) by Donald Hamilton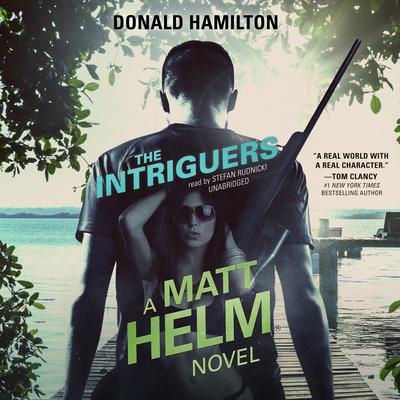 Read by Stefan Rudnicki
Matt Helm is on vacation in Mexico with nothing on his mind except fishing, when some joker tries to shoot him in the back. Naturally, it was no accident—when secret agents get shot at, it never is.
So Helm has to go back to work. At least there's a bonus in the form of his boss' beautiful daughter, a playmate in peril.
---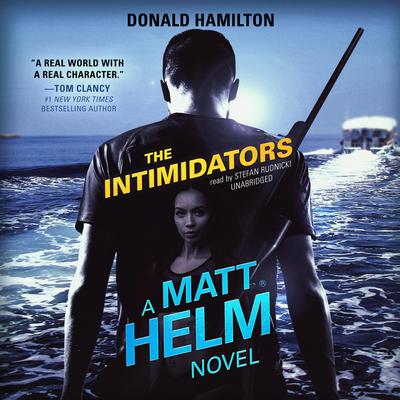 THE INTIMIDATORS (The Matt Helm Series, Book 15) by Donald Hamilton
Read by Stefan Rudnicki
It was a double mission this time: First, to terminate a top-notch enemy agent. Second, to locate the missing fiancée of a Texas oil millionaire, lost in the Bermuda Triangle. Somehow these two cases were connected, but it wasn't clear how until more high-profile types disappeared.
They weren't dead, just part of a deadly little game …
---
"I can't kill you. If I do, Mac will send out the executioners, the termination squads …"
THE TERMINATORS (The Matt Helm Series, Book 16) by Donald Hamilton
Read by Stefan Rudnicki
When the big man in Washington assigned Matt Helm to ride shotgun on a top-secret mission in Norway, Helm wanted to know why. But this was a need-to-know deal, at least until his partner—a woman posing as his mistress—was killed. Now Helm is mad—mad enough to blow the operation sky high.
---
"Helm is a genuinely tough and tough-minded protagonist…your reading diet lacks essential vitamins if you overlook him." —New York Times, praise for the series
---
THE RETALIATORS (The Matt Helm Series, Book 17) by Donald Hamilton
Read by Stefan Rudnicki
Matt Helm is unexpectedly rich, and he doesn't like it. Twenty thousand mysterious dollars appear in his bank account, but this is no time for celebration.
Another secret agent with an unexplained surplus is murdered, and Helm figures he better work out who his "benefactor" is before he becomes the next target.
---
THE TERRORIZERS (The Matt Helm Series, Book 18) by Donald Hamilton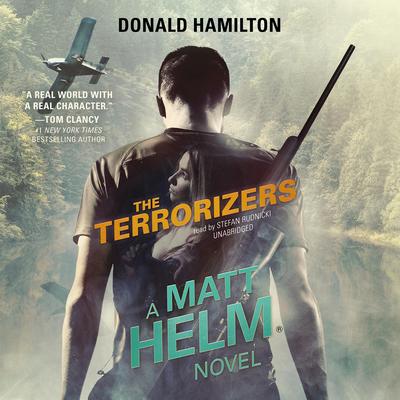 Read by Stefan Rudnicki
The survivor of a plane crash wakes up in a hospital in Canada, his memory a blank.
Then in walks Kitty, a gorgeous woman, who tells him that he is Paul Madden, a photographer and her fiancé. Not bad. Except that a man on the phone keeps calling him Matt Helm.
Things don't add up. This can only mean trouble …
---
Looking for more Matt Helm? We are moving into the '80s (hop on over to our "wicked" blog post here)! Originally published in 1982, THE REVENGERS (The Matt Helm Series, Book 19) is now available on audio. Skyboat has had such positive fan response and it is a pleasure to continue this thrilling series. And we're not done yet…
---
Look for these titles from Skyboat Media. Available on downpour.com.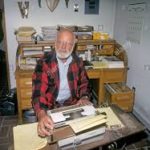 About the author: Donald Hamilton began his writing career in 1946 by writing short stories for fiction magazines. In 1947, he published Date With Darkness, his first novel. Over the course of his career, he would go on to publish a total of 38 novels in the suspense, spy, and western genres. Between 1960 and 1993, Hamilton wrote 27 books in the Matt Helm series. They've sold over 20 million copies worldwide.