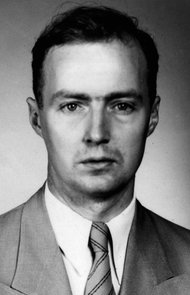 "As prolific as he was unclassifiable, James Purdy was considered one of the greatest—and most underappreciated—writers in America in the latter half of the twentieth century."  
So says Norton, the publisher who has only recently brought fifty-seven of this controversial writer's often jaw-dropping stories into a single collection with which to be reckoned.
Purdy's influences were wide-ranging, and it shows.  From the Bible study of his Ohioan childhood to the Chicago jazz salons where he hung during his college years to living in New York during the Harlem Renaissance, his stories are filled with characters existing in the fringes of society: down-trodden women, struggling African-Americans, closeted homosexuals.  To use a cliche, he was simply ahead of his time.  But to quote Norton once more, "it may have taken over fifty years, but American culture is finally in sync with James Purdy."
Some days I just have to pinch myself that I'm not dreaming.  When Audible gifted us this collection to record, it was a black-and-blue pinching day for me.  Purdy's strories require full and very specific performances—no simple audiobook reads this time.  And the more time I spent with the stories, the more I realized that we needed many voices to do justice to the complex tapestry of his work.  Each one is a small masterpiece of wit, angst, and biting humor.  The cast does an astounding job.
Senior Directors Cassandra de Cuir, Claire Bloom and I guided the readers through the wild and colorful tales that sprung from Purdy's incredible mind.  Enjoy these sneak peeks into this exciting collection that will include more than fifteen narrators bringing more than fifty-seven one-of-a-kind stories to life.