"The leading science fiction authors might construct elaborate spaceships or time machines…but were usually afraid to tinker with sentence structures. Except for Samuel R. Delany." –from Ted Gioia's essay in Conceptual Fiction
Samuel Ray Delany, Jr. is an American author, professor and literary critic. His science fiction novels include Babel-17, The Einstein Intersection, Nova, Dhalgren, and the Return to Nevèrÿon series.
"He first emerged as a prodigy in the sixties, one of a loose band of young writers sometimes referred to as sci-fi's 'new wave,' whose work helped to push the tradition away from robots and spaceships toward deep questions about race, sexuality, and identity….He managed to fuse, unapologetically, qualities that few had ever thought to combine: He was pulpy, literary, lusty, academic, prolific, and meticulous." –Sam Anderson, in his New York Books article "Sage of the Apocalypse"
A multiple Nebula and Hugo award winner, Delany was inducted to the Science Fiction and Fantasy Hall of Fame in 2002. He spent over a decade as a professor of English and Creative Writing at Temple University in Philadelphia. In 2013, the Science Fiction Writers of America named him its 30th Grand Master.
"Science fiction isn't just thinking about the world out there. It's also thinking about how that world might be—a particularly important exercise for those who are oppressed, because if they're going to change the world we live in, they—and all of us—have to be able to think about a world that works differently." –Samuel R. Delany, in The Paris Review: The Art of Fiction No. 210 –Interviewed by Rachel Kaadzi Ghansah
If you'd like to learn more about Samuel R. Delany, in his own words, CHATTING SCIENCE FICTION: SELECTED INTERVIEWS FROM HOUR OF THE WOLF, produced and hosted by Jim Freund, features interviews and chats from recent episodes of Hour of the Wolf, the world's longest-running radio program on speculative fiction. Interviewees include Ursula K. Le Guin, Kim Stanley Robinson, Samuel R. Delany, Cory Doctorow, Ray Bradbury, and more.    
Visit Skyboat's Samuel R. Delany SoundCloud playlist to listen to audiobook samples of all of our Delany titles, including an unedited straight-from-the-recording-booth clip of DHALGREN!
---
"First of all, General," she was saying. "Babel-17 isn't a code."
"It's not a code," she repeated. "It's a language."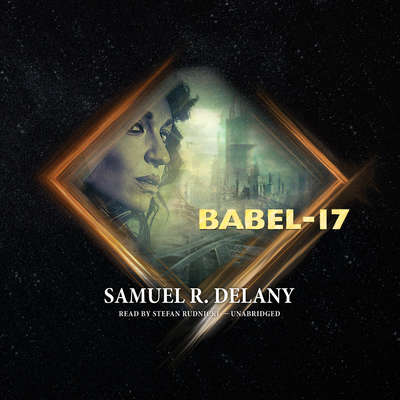 BABEL-17 by Samuel R. Delany
Read by Stefan Rudnicki
Winner of the 1966 Nebula Award for Best Novel
Finalist for the 1967 Hugo Award for Best Novel
Babel-17 is a fascinating tale of a famous poet bent on deciphering a secret language that is the key to the enemy's deadly force, a task that requires she travel with a splendidly improbable crew to the site of the next attack.
---
"800 epic pages of gorgeous, profound, clumsy, rambling, violent, randy, visionary, goofy, postapocalyptic sci-fi prose poetry." –Sam Anderson, in

New York Books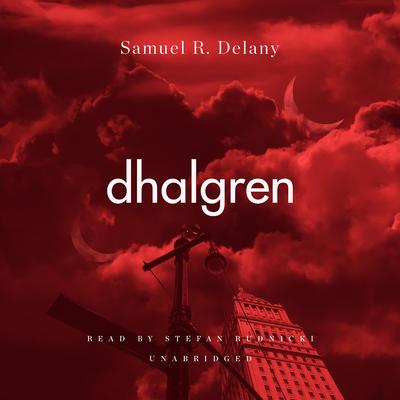 DHALGREN by Samuel R. Delany
Read by Stefan Rudnicki
Nominated for the 1975 Nebula Award
In Dhalgren, perhaps one of the most profound and bestselling science fiction novels of all time, Samuel R. Delany has produced a novel that rivals the best American fiction of the 1970s.
Bellona is a city at the dead center of the United States. Something has happened there … the population has fled. Madmen and criminals wander the streets. Strange portents appear in the cloud-covered sky. And into this disaster zone comes a young man—a poet, lover, and adventurer—known only as the Kid.
Tackling questions of race, gender, and sexuality, Dhalgren is a literary marvel and a groundbreaking work of American magical realism.
For a behind-the-scenes look at the audiobook recording of DHALGREN, visit our DHALGREN spotlight blog post! 
---
"This short novel is narrated by Stefan Rudnicki in low, rumbling tones that evoke oral storytelling. His steady pace and resonant tone highlight the dreamlike quality of Lobey's odyssey and the story's blend of traditional mythologies and elements of contemporary culture. The air of timelessness allows listeners to absorb the story's action and contemplate the interesting blend of science fiction elements with familiar mythos. Neil Gaiman's quick introduction gives some context for the story's inspirations and eases listeners into Delany's novella regardless of their familiarity with his works." 

—AudioFile Magazine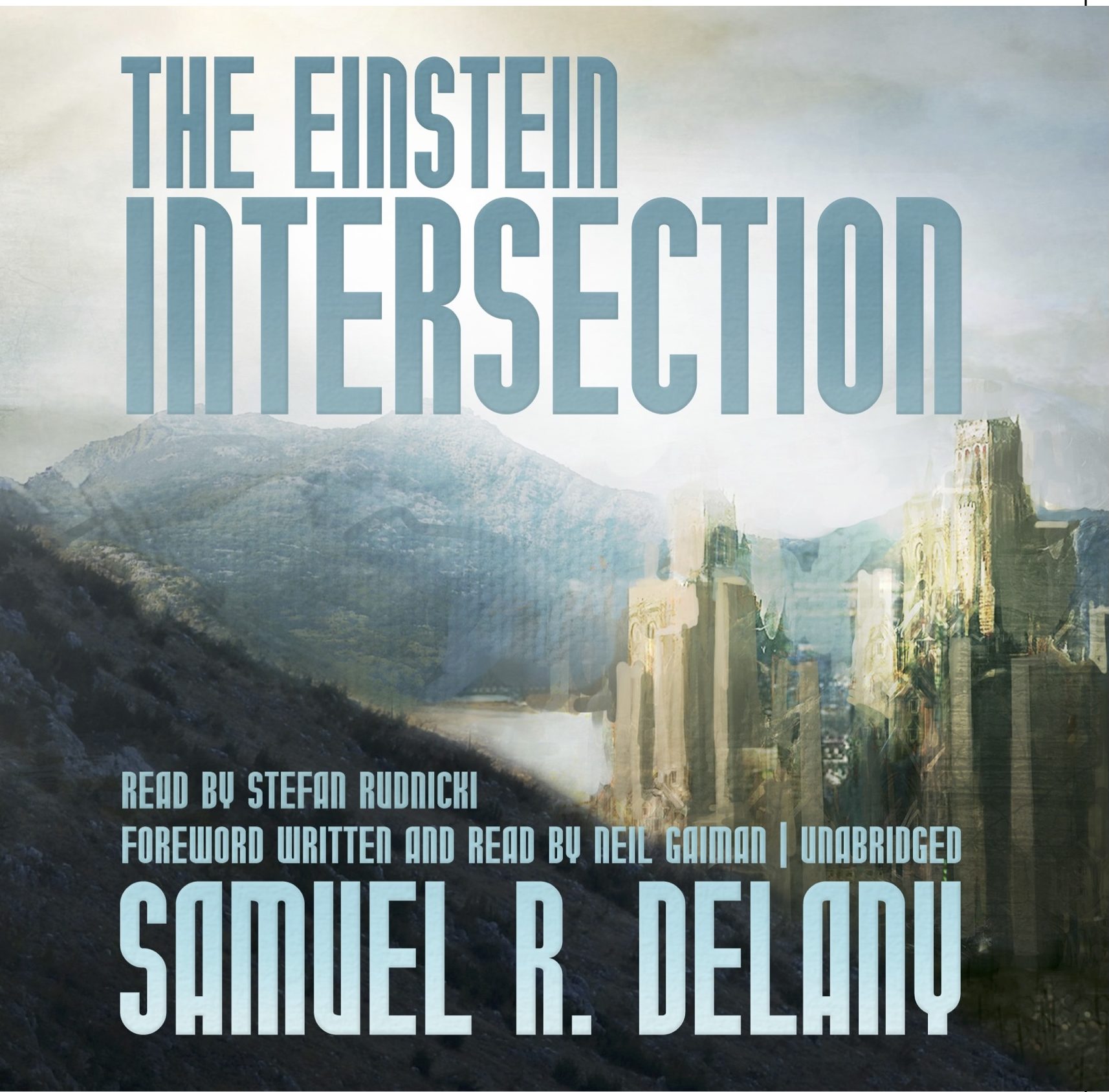 THE EINSTEIN INTERSECTION by Samuel R. Delany
Foreword Written and Read by Neil Gaiman
Read by Stefan Rudnicki
Winner of the 1967 Nebula Award for Best Novel
The Einstein Intersection won the Nebula Award for best science fiction novel of 1967. The surface story tells of the problems a member of an alien race, Lo Lobey, has assimilating the mythology of Earth, where his kind have settled among the leftover artifacts of humanity. The deeper tale concerns, however, the way those who are "different" must deal with the dominant cultural ideology. The tale follows Lobey's mythic quest for his lost love, Friza. In luminous and hallucinated language, it explores what new myths might emerge from the detritus of the human world as those who are "different" try to seize history and the day.
"Endings to be useful must be inconclusive" –The Einstein Intersection
---
"Samuel R. Delany, right now, as of this book, Nova, not as of some future book or some accumulated body of work, is the best science-fiction writer in the world, at a time when competition for that status is intense." —Galaxy Science Fiction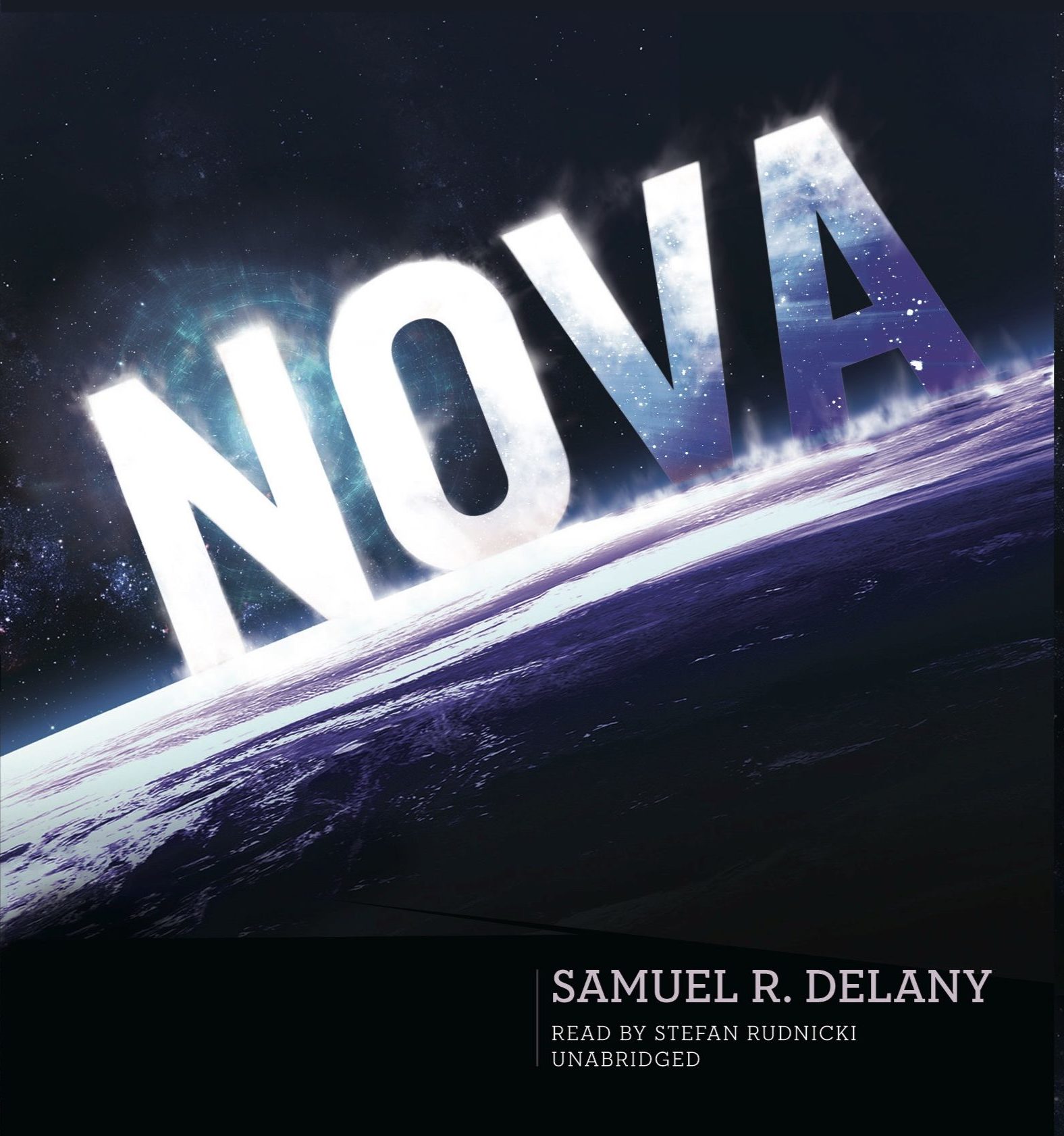 NOVA by Samuel R. Delany
Read by Stefan Rudnicki
Finalist for the 1969 Hugo Award for Best Novel
Given that the suns of Draco stretch almost sixteen light years from end to end, it stands to reason that the cost of transportation is the most important factor driving the thirty-second century. And since Illyrion is the element most needed for space travel, Lorq von Ray is plenty willing to fly through the core of a recently imploded sun in order to obtain seven tons of it. The potential for profit is so great that Lorq has little difficulty cobbling together an alluring crew, including a gypsy musician and a moon-obsessed scholar interested in the ancient art of writing a novel. What the crew doesn't know is that Lorq's quest is actually fueled by a private revenge so consuming that he'll stop at nothing to achieve it.
In the grandest manner of speculative fiction, Nova is a wise and witty classic that casts a fascinating new light on some of humanity's oldest truths and enduring myths.
---
"Listeners require a skilled docent such as narrator Stefan Rudnicki to help them fully absorb this audiobook of Delany's masterwork. This dense slab of science fiction is crammed with characters, both alien and human, with fluid gender identities, and populated with planets near and far. But Rudnicki's melodious rumble makes this lengthy journey—which threatens to be overwhelming—much more intelligible and enjoyable. For this is at its heart a story of doomed love between two men: RAT Korga, the monosyllabic lone survivor of a destroyed planet, and Marq Dyeth, a silver-tongued industrial diplomat from a noble line. Rudnicki capably brings to life the emotions of their short relationship amid chaotic times. It's a narrative both tragic and bittersweet but well worth the listen."

—AudioFile Magazine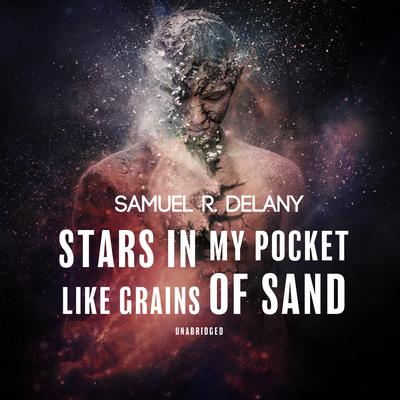 STARS IN MY POCKET LIKE GRAINS OF SAND by Samuel R. Delany
Read by Stefan Rudnicki
The story of a truly galactic civilization with over 6,000 inhabited worlds.
Stars in My Pocket like Grains of Sand is a science fiction masterpiece, an essay on the inexplicability of sexual attractiveness, and an examination of interstellar politics among far-flung worlds. First published in 1984, the novel's central issues—technology, globalization, gender, sexuality, and multiculturalism—have only become more pressing with the passage of time.
The novel's topic is information itself: What are the repercussions, once it has been made public, that two individuals have been found to be each other's perfect erotic object out to "point nine-nine-nine and several nines percent more?" What will it do to the individuals involved, to the city they inhabit, to their geosector, to their entire world society, especially when one is an illiterate worker, the sole survivor of a world destroyed by "cultural fugue," and the other is—you!
---
"A very moving, intensely fascinating literary autobiography from an extraordinary writer. Thoroughly admirable candor and luminous stylistic precision; the artist as a young man and a memorable picture of an age." 

—

William Gibson, critically acclaimed author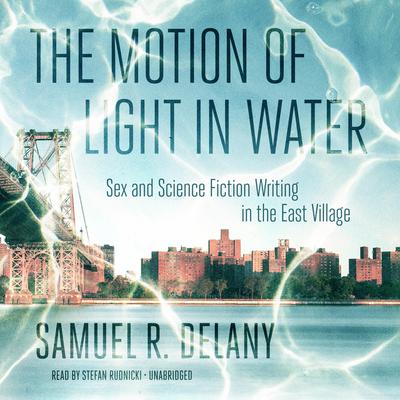 THE MOTION OF LIGHT IN WATER: SEX AND SCIENCE FICTION WRITING IN THE EAST VILLAGE by Samuel R. Delany
Read by Stefan Rudnicki
Born in New York City's black ghetto Harlem at the start of World War II, Samuel R. Delany married white poet Marilyn Hacker right out of high school. The interracial couple moved into the city's new bohemian quarter, the Lower East Side, in summer 1961.
Through the decade's opening years, new art, new sexual practices, new music, and new political awareness burgeoned among the crowded streets and cheap railroad apartments. Beautifully, vividly, insightfully, Delany calls up this era of exploration and adventure as he details his development as a black gay writer in an open marriage, with tertiary walk-ons by Bob Dylan, Stokely Carmichael, W. H. Auden, and James Baldwin, and a panoply of brilliantly drawn secondary characters.
---
"Sentence by sentence, phrase by phrase, Delany invites the reader to collaborate in the process of creation. The reader who accepts this invitation has an extraordinarily satisfying experience in store." —New York Times Book Review, on STARS IN MY POCKET LIKE GRAINS OF SAND
And, thanks to Samuel R. Delany's masterful prose and Stefan Rudnicki's "resonant" and "melodious" narration, so does the listener!  
Check out our DHALGREN spotlight blog post and don't forget to visit Skyboat's Samuel R. Delany SoundCloud playlist to listen to audiobook samples of all of our Delany titles, including an unedited straight-from-the-recording-booth clip of DHALGREN!
All of these Samuel R. Delany classics are available for purchase on downpour.com. Purchase your copies today!