Anton Chekhov is known as the brilliant dramatist behind such classics as The Seagull and Three Sisters, as the short story author behind such tight and terrific tales as "The Lady with the Dog."  In creative writing classrooms across America, he has become synonymous with the rule fittingly known as Chekhov's Gun, i.e. (warning: paraphrase approaching) if you hang a rifle on the wall in the first scene, it darn well better go off by the end of the story, otherwise it shouldn't be hanging there in the first place.  Here, here, Mr. Chekhov.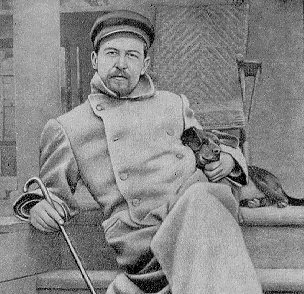 Perhaps this simple yet genius literary wisdom is due to the fact that Chekhov actually began his career by writing tales of crime and mystery.  In the late 19th century, he published several stories in a variety of journals and newspapers, and it wasn't until a couple of years ago that these works were at long last collected, translated, and published in English.  The result is A NIGHT IN THE CEMETERY: AND OTHER STORIES OF CRIME AND SUSPENSE, a delightfully macabre collection that demonstrates both Chekhov's dark sense of humor and his innate talent for suspenseful storytelling.
Needless to say, we were absolutely thrilled when Audible sent these forty-two tales our way, and we've been having a downright ball recording them with our hand-selected group of talented narrators: Stephen Hoye, Arthur Morey, Stefan Rudnicki, Gabrielle de Cuir, and none other than Harlan Ellison.  Get ready for suspense, darkness, and sheer delight!